Drake's 'View From the 6' Could Arrive in January but Fans Want it Now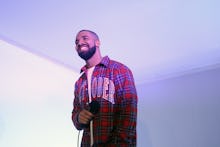 Drake fans may welcome a stellar start to 2016 if the rumors are true, though hope springs eternal for Drake devotees who want him to sneak release his forthcoming record Views From the 6 before the end of the year.
According to Billboard, the Canadian rapper may release his long-awaited fifth studio album in January. The LP, the title of which is a tribute to Drake's hometown of Toronto, will serve as a follow-up to the mixtape If You're Reading This It's Too Late, which surfaced in February. Other 2015 Drake highlights include the chart-topping collaboration mixtape with Future, titled What a Time to Be Alive, released in September.
The rumor mill surrounding Drake's new album began churning after the Daily Rap posted a teaser to Twitter suggesting the album would be released Jan. 6, 2016. Yet even some of Drake's most dedicated fans on Reddit can't seem to tease out details of the release and much of what's been reported to date is speculation.
Fans did not take the tease lightly. Some took the Daily Rap's post for truth, while others questioned the legitimacy of the supposed release date and others still complained that January was too long to wait for new Drake material. 
Perhaps hearing and responding to his fans tortured tweets, not long after the tease in November, Drake shared what appears to be a snippet of one of the tracks off the album. The clip, which Drake posted to his Vine account, is captioned "Views."
And another Drake Vine captioned "Views" followed Dec. 18.
For his part, Drake, who was born Aubrey Graham, has given few details about Views From the 6. The exception to that embargo came Sept. 24, when Fader published a cover story with Drake. Drake told Fader he promised Views From the 6 would be released "imminently," though he didn't offer a definitive date. 
Of the mixtape released earlier this year, Drake told Fader that the effort was something of a gift to his fans. "It was just an offering," he told Fader. "I just wanted you to have something to start the year off. I wanted to be the first one. I wanted to set it off properly."
When asked what sort of persona he hopes to portray in the Views From the 6 epoch, Drake comes through as unapologetically human.
"It's never about toughening up," Drake told Fader. "I don't even know if that's, like, cool, being tough and shit. Not being vulnerable is never gonna be my thing. I'm always going to share with you what's going on in my life.
"Vulnerability, to me, sometimes comes in the form of being naïve about where I am in the pecking order of all this. So I think I realize where I'm at now. And I think I realize that I'm gonna have to be OK with not having that many friends that are peers."