Man Who Allegedly Stockpiled Explosives to Use Against Muslims Says He's a Trump Supporter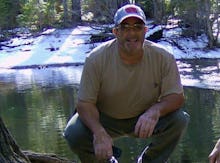 A man in Richmond, California is under arrest after police raided his home and detonated a suspected explosive device. The man, 55-year-old William Celli, was remanded to the Contra Costa County jail on Sunday afternoon, CBS local reported. The arrest and detonation took place after authorities received a tip that Celli was making explosive devices and had professed a desire to hurt Muslims.
Celli has publicly professed his admiration for Donald Trump on Facebook. "I'll follow this MAN to the end of the world," he wrote on an account which remained live as of 12:00 p.m. Monday. 
In his profile, Celli described himself as a manager at the Canyon Plumbing Company of Copperopolis, California and has been married to his wife Lisa since 1986. Photos of the family from Lisa's account appear to indicate that the two enjoyed a relatively normal family life before the incident. 
Mic reached out to Celli as well as Canyon Plumbing Company and the Richmond police department, all of whom were unavailable for comment. 
While there's been no confirmation regarding claims that Celli had actually been making bombs or ever intended to harm Muslims, such an action would be consistent with an increasing degree of the rhetoric emanating from Trump.
As the polls in Iowa come closer, the GOP front-runner has doubled down on an increasingly aggressive set of domestic and foreign policy prescriptions. After a Black Lives Matter protester interrupted Trump during a rally in Birmingham, Alabama he was reportedly set upon by a mob of Trump supporters. Trump later defended their actions saying that the protester had been very disrespectful. "Maybe he should have been roughed up because it was absolutely disgusting what he was doing," the candidate told Fox. In another instance, when two Trump supporters attacked and beat a homeless Hispanic man and cited Trump as their motivation, the real estate magnate noted his supporters are "very passionate."
Internationally, the candidate has also called for the bombing of ISIS family members who would ordinarily have been considered civilians. Michael Walzer, a professor emeritus at the Institute for Advanced Study and author of Just and Unjust Wars, said such an action would constitute a war crime. "To target the innocent is the worst crime of war," he told Mic earlier this month.
While Trump has never advocated physical violence toward U.S. Muslims and it would be unfair to hold him responsible for the actions of a few crazed supporters, the incident does mark the latest in an increasingly troubling trend.