Christmas Day Movies 2015: List of Films Coming Out on Christmas and What You Should See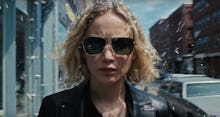 Oscar season is in full force, and some of the year's most highly anticipated movies are hitting theaters on Christmas Day, giving people all the more reason to see a movie on Christmas.
Several films are being released on Christmas Day, and a couple of them are expected to be Oscar-worthy, including The Revenant in limited release starring Leonardo DiCaprio, and Joy — starring the trifecta of Jennifer Lawrence, Robert De Niro and Bradley Cooper.
Here are six films that'll give you and your family an excuse to escape the pain of small-talk with distant relatives and spend Christmas Day at the movie theater. 
1. The Revenant 
Director Alejandro González Iñárritu has directed several critically acclaimed films, including 2014's Birdman, which won the Oscar for best motion picture of the year. Variety's Justin Chang said in his review that Leonardo DiCaprio shows 200% commitment to his starring role in the true story film about a frontiersman seeking revenge against teammates who left him to die after he was attacked by a bear in the winter wilderness. 
"Bleak as hell but considerably more beautiful, this nightmarish plunge into a frigid, forbidding American outback is a movie of pitiless violence, grueling intensity and continually breathtaking imagery, a feat of high-wire filmmaking to surpass even Iñárritu and [director of photography] Emmanuel Lubezki's work on last year's Oscar-winning Birdman," Chang wrote in his review. 
2. Joy
Joy is based on the real life story of American entrepreneur and innovator Joy Mangano — a Long Island, New York, native who invented household tools, such as the Miracle Mop and Huggable Hangers.
"Once again, [Jennifer] Lawrence rises to the occasion and takes charge, bringing to life a character who fights the fight for several decades and comes out on top," Hollywood Reporter's Todd McCarthy wrote in a review.  
"I'm convinced she was a Macbeth actress in the 1800s," Mangano told Vogue of Lawrence's portrayal of her. "Some of the things she comes out with, you think she's ... this grande dame at 80 years old. She is an amazingly bright and talented young lady and a very funny and good soul."
3. Daddy's Home
After starring together in 2010 comedy The Other Guys, Will Ferrell and Mark Wahlberg reunite for Daddy's Home, a comedy about a humiliating battle between their characters to be the "cool" dad. 
"When both of these guys finally do stop acting like stupid competitive kids and start to act like adults and realize what's best for the family, the movie delivers a funny but also sweet message," Ferrell told the Chicago Sun-Times.
4. Concussion
In Will Smith's latest starring role, the veteran actor plays Nigerian forensic pathologist Bennet Omalu, who shed light on brain trauma in football in the early 2000s after performing an autopsy on professional football player Mike Webster in 2002. "As a parent, the responsibility to bring this information to light was overwhelming," Smith told Entertainment Weekly in October. "I almost couldn't say no."
5. Point Break 
Starring Luke Bracey and Édgar Ramírez, Point Break is a remake of the 1991 movie that starred Keanu Reeves and Patrick Swayze about criminals who conduct a series of thrilling corporate heists and ultimately give the stolen money to the poor. 
"Among the film's especially energetic sequences are a furious two-man chase on foot through a heavily populated neighborhood, shot vigorously with a hand-held camera; sustained and amazing sky-diving scenes guaranteed to make the palms sweat; and a police raid on a house that becomes a wild melee and turns a lawnmower into a potentially deadly weapon," the New York Times wrote of the original 1991 film.
6. The Hateful Eight 
Transcendent director Quentin Tarantino's latest film The Hateful Eight already has an impressive early 8.6 rating on IMDb, at time of writing. The post-Civil War film documents everything that goes wrong when bounty hunters seek shelter in a winter blizzard. 
"It's pretentious, but strangely relaxing, inviting the audience to surrender to a languid experience that's as much about ambience as it is about plot," Verge's Tasha Robinson wrote in a review. The film stars Samuel L. Jackson, Kurt Russell and Jennifer Jason Leigh, among others. The film will be playing in select theaters on Christmas Day for its limited release.