Tanning Beds Could Be Banned for Minors, but Here's Why We Should All Stop Using Them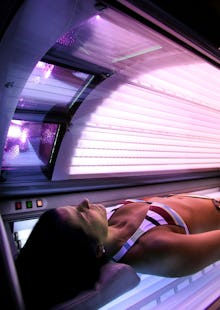 If you're under 18, you can't vote or get a tattoo — or use tanning beds, if a new proposal becomes a reality.
The Food and Drug Administration recently proposed a ban on indoor tanning beds, which emit cancer-causing ultraviolet rays, for folks under 18 years of age.
"Today's action is intended to help protect young people from a known and preventable cause of skin cancer and other harms," acting FDA Commissioner Dr. Stephen Ostroff said in a statement. "Individuals under 18 years are at greatest risk of the adverse health consequences of indoor tanning."
The FDA already dissuades minors from using tanning beds. In May of 2014, the agency ordered all sunlamp products to display a warning stating they should not be used on people under 18 years of age. 
There's a good reason minors, in particular, should quit the dangerous behavior: The effects of UV exposure add up over your life, meaning the earlier you start tanning, the more risk you develop for skin and eye problems later in life, the FDA release explained.
"There is increasing evidence that indoor tanning during childhood and early adult life increases the risk of skin cancer, including melanoma," Dr. Markham C. Luke, dermatologist and deputy office director of the Office of Device Evaluation at the FDA's Center for Devices and Radiological Health, said in an FDA article. "Hundreds of youth also are injured each year across the country due to using sunlamp products."
According to data from the 2013 Youth Risk Behavior Surveillance System posted on the CDC's website, 13% of all high school students — including 31% of all white high school girls — use indoor tanning beds. The same survey reportedly found that 1.6 million minors indoor tan each year.
The proposed ban might only apply to minors, but let's face it: It's not a good idea for anyone to use tanning beds.
Dr. Mitchell Chasin is the medical director of Reflections Center for Skin and Body, a clinic specializing in Botox, laser hair removal, plastic surgery and other cosmetic procedures. Chasin supports banning minors from using tanning beds — but noted that not matter what your age is, tanning beds pose very serious health risks.
The problem no one's talking about: "Gynecologists are starting to find cancers on their patients during routine exams that a dermatologist may or may not find," Chasin told Mic.
"Short-term exposure to sun may cause burns, blisters or rashes," Chasin told Mic via email. "Chronic UV exposure from the sun or tanning beds causes hyperpigmentation (dark spots all over the skin), hypopigmentation (lighter spots), rough, thickened and wrinkled skin." 
Indoor-tanning-related injuries account, on average, for more than 3,000 emergency room visits each year in the U.S., according to CDC data quoted in the Dec. 18 FDA release.
One of the "biggest concerns," Chasin added, is the increased risk of skin cancer. You have a 59% higher chance of developing melanoma if you're exposed to UV rays in an indoor tanning booth, according to the American Academy of Dermatology. That risk goes up each time you do it.
"Another problem with tanning beds that no one is talking about is where the radiation is going," Chasin added. Many people use tanning beds in the nude, he explained, exposing themselves to radiation in parts of their body their dermatologist might not regularly check.
"I'd challenge them to do really thorough skin exams, because you've created sun exposure and cancer risk in unusual places," he said. "Gynecologists are starting to find cancers on their patients during routine exams that a dermatologist may or may not find, depending on how timid the patient was during their skin exam."
In addition to banning minors, the FDA is also proposing measures to limit adults' use of indoor tanning beds. 
"Before their first tanning session and every six months thereafter," the Dec. 18 release stated, "adult users over age 18 would have to sign a risk acknowledgement certification that states that they have been informed of the risks to health that may result from use of sunlamp products."
The public is invited to provide comments on the proposed regulations for the next 90 days.