Christmas Dinner Recipes That Take 45 Minutes or Less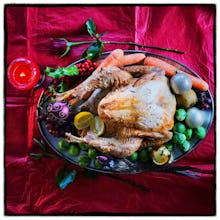 Ain't nobody got time to spend the whole day and then some prepping a Christmas feast. The precious few days left until the big day should be spent wisely, aka buying last-minute gifts and packing suitcases for the flight back home. 
But that doesn't mean anyone needs to slack on one of the best evenings to overeat. Below are quick and easy Christmas dinner recipes to take to any Christmas party. No one will guess it took just a hot second to whip up.
Easy white bean chicken chili with butternut squash
This holiday season may be unusually warm, but that doesn't mean that a chili dish shouldn't make an appearance during dinner — especially when it's going to take less than 20 minutes. Chopping up the chicken breasts and butternut squash into bite-sized pieces will help them cook in a flash. Find the recipe on Foodie Crush.
Balsamic cream chicken with mushrooms
This comforting recipe uses ingredients that are probably already stocked in the kitchen, using mainly balsamic vinegar, chicken breasts, chicken stock and flour. The recipe, which takes just 10 minutes to prep and equal time to cook, can be found on the Hopeless Housewife. 
Salmon with cranberry, parsley and nut crust
Christmas protein is no longer confined to ham and turkey. Nadia Lim's Christmas salmon is decorated with festive cranberries and parsley. It'll also take less than 45 minutes to go from countertop to tabletop. The recipe is from Lim's website. 
Seafood linguine
The best part about pasta — other than the fact that it's pasta — is that it's easy to make huge portions. Using scallops, pre-cooked shrimp and frozen lobster, Monica Parlee created an easy linguine that takes just a little longer than it takes to boil pasta. The recipe can be found on Parlee's blog. 
Grilled chicken with blackberry sweet-and-sour sauce
This chicken recipe pleases the eye, palette and tight schedule. It doesn't get any easier, with just five minutes to prep and fifteen to cook. The creative sauce is made with fresh blackberries, jam and soy sauce. The recipe is from Steamy Kitchen.
Sun-dried tomato pesto pasta
This 20-minute pasta is vegan, and gluten-free if quinoa or rice pasta is used. The sauce can be easily made in a food processor using olive oil, sun-dried tomatoes, garlic and vegan cheese. Find the recipe on Minimalist Baker.