Cecil the Lion Lovers About to Get a Long-Awaited Win With the White House's Next Move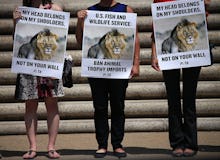 Months after a Minnesota hunter illegally killed Zimbabwe's famed Cecil the lion, the White House is taking action.
On Monday, the Associated Press reported that the Obama administration is expected to add two subspecies of lion to the Endangered Species Act protections, "in response to a large decline in their numbers in Africa over the past two decades."
According to the AP, the new rules classify the two breeds of lion as "threatened" and will include language denying "a permit to import a sport-hunted lion to anyone who has been convicted or pleaded guilty to violating federal or state wildlife laws." They will also make it much more difficult to import live lions or lion trophies from countries where lions are considered endangered, though the move excludes legal hunts in nations where lions are threatened.
Though the Fish and Wildlife Service told the AP the move was not connected to Walter Palmer, the Minnesota dentist who rose to infamy after hunting down Cecil in Zimbabwe's Hwange National Park, the news agency noted he pled guilty to a felony charge in 2008 after lying about an illegal 2006 hunt involving a protected black bear.
Of the two subspecies, the AP reports, one consists of 1,400 individuals and is related to the Asiatic lion, while the second is found in southern and eastern Africa and consists of 17,000 to 19,000 individuals.
"The burden of proof is now shifted," Oxford University's Wildlife Conservation Research Unit lion expert Hans Bauer told the New York Times. "Under this new ruling, countries must not only prove that hunting is not bad for lions; they must prove that it is good for lions."
"Many have challenged the hunting industry to show some figures to support their claim that the revenues from lion hunting support lion conservation, but the industry has been notoriously opaque and has long resisted calls for reform," he continued. "This must now change."
Lion populations across Africa are dwindling, with a study earlier this year concluding the already tiny number of lions on the continent could drop by half within 20 years without further conservation efforts.