Last-Minute Christmas Gift Ideas You Can Buy on Your Way Home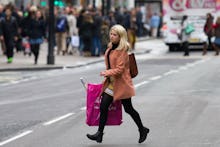 It's Christmas morning, the weather is unusually warm and plans for the day include a relaxing trip to the family party — until, that is, you remember the grab bag, secret Santa or Yankee Swap gift you still need to purchase. If finding a last-minute gift suddenly becomes a priority during the holiday rush to head home, fear not: With some quick thinking and a little imagination, finding a party present will be simple as pie.
Here are some quick gifts you can put together while under pressure:
The "Netflix and chill" gift
What you'll need:
- One bottle of wine, tequila or other preferred liquor (found at a local winery or liquor store)
- A scarf, winter hat or earmuffs with other accompanying winter weather accessories (available at dollar stores, malls, other retail locations)
- Copy of gift recipient's favorite film or TV show
- Chocolates, strawberries or recipient's favorite food
Wrap the scarf or other winter weather accessories around the bottle of liquor and surround the person's favorite film with the chocolates or other snacks in a holiday bag. It may not be the most expensive or difficult to put together, but it will show your genuine consideration of that person's interests when it comes to a last-minute Christmas gift. 
Gift cards
If there's little to no time before the holiday party begins, there may not be as much time to find a thoughtful gift. Gift cards allow recipients of the plastic presents to go out and purchase whatever makes their heart's content. It's a no-brainer, and can be found in virtually any store. For millennials, consider places that offer online counterparts (Target and Walmart, for example) and for others, think about what places they could use a gift card the most, like a flower shop, home appliance store or grocery store.
The "foodie" gift
What you'll need: 
- Snacks: lots and lots of them. Think about the recipient's favorite foods, and package a heaping portion of their favorite foods into a single gift bag.
- Drinks: Snacks are not complete without something to wash them down with! Consider purchasing trendy drinks available at most retail locations, like kombucha tea. Your gift recipient will think you're at the forefront of the hottest trends. 
The only way this gift will work is if you load on the snacks into a single gift. Nobody would appreciate being handed one or two products they could simply purchase while on break at work. By splurging on some hot products and interesting snack options, a gift for a foodie can actually become quite unique and considerate. 
Money
Cold, hard cash. Sometimes, putting a fat check or wad of paper in an envelope and writing a simple, "Merry Christmas" will suffice. For some, personalized Christmas gifts are the highlight of their season. Others are simply hoping for their hand-picked presents to come with receipts so they can simply cash in and buy whatever it is they truly wanted, anyway. 
Literally anything Star Wars related
Star Wars: The Force Awakens is the hottest movie in theaters, shattering box office sales and earning $238 million in its opening weekend. With the latest edition to the film series, a fleet of new toys, as well as classics, have also become available at most retail chains across the United States. Gift any of the toys or video games to fans for a sure-fire Christmas present win. And, if your gift recipient hasn't yet seen any of the Star Wars films, consider purchasing the bundle for their binge-watching pleasure. 
May the force be with you.