In Kenya Bus Terror Attack, Muslim Passengers Protect Christians by Refusing to Separate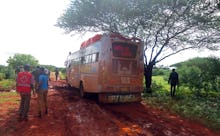 When a group of Islamic jihadist attackers stormed a bus in Kenya on Monday, a group of Kenyan Muslims moved to protect the Christian passengers on board, the BBC reported. According to the outlet, the gunmen ambushed the bus, attempting to divide those on board based on the passengers' religious affiliations. However, the Muslim passengers reportedly refused to split. At least two people were killed. 
Speaking to members of the Kenyan press, a local government official said Muslim passengers on board the Makka bus told the terrorists "to kill all of them or leave," according to Kenyan news outlet the Standard. Following the terror attack, Kenya's Interior Cabinet Secretary Joseph Nkaissery praised the Kenyan citizens who risked their lives in the attempt to protect the non-Muslim passengers. 
"We commend the Muslims who stood by the Christians when the gang attacked," Nkaissery said, according to the Standard. "They showed the terrorists cannot separate us using religion. They cannot cause a religious war, and I thank the passengers and locals." 
Nkaissery said the terrorists were able to carry out the attack, in part, due to a police escort vehicle that broke down. "[T]he drivers decided to proceed with their journeys without a police escort," he said, according to the Standard. "It is unfortunate at least two died."
The bus was en route from the Kenyan capital city of Nairobi traveling to the northern city of Mandera, near the Somali border at the time of the attack, the BBC reported. Al-Shabab, a terror group with roots in Somalia, is suspected to be responsible for the attack.
There's been no shortage of carnage at the hands of al-Shabab in recent years. In December 2014, the terrorist organization stormed a Kenyan quarry and systematically killed 36 mainly Christian workers, the Guardian reported. Then, on April 3, the terror group waged a bloody attack on Garissa University in northeast Kenya, the BBC reported. During that attack, terrorists separated Muslims from non-Muslims as they gunned down at least 147 victims. 
In July, al-Shabab militants claimed responsibility for an attack that left 14 dead in Mandera County, not far from Monday's bus raid, according to CNN.
The Council on Foreign Relations explains that al-Shabab, which translates to "the Youth," has ties to al-Qaida and wants to create a fundamentalist Islamic state in Somalia. The group once controlled the Somali capital city of Mogadishu, though African Union military forces have since successfully suppressed the militants to some degree.
Yet, according to the Council on Foreign Relations, "security analysts warn that the group remains the principal threat in a politically volatile, war-torn state."
Dec. 21, 2015, 3:46 p.m. Eastern:This story has been updated. 
Get the five stories that will challenge you to rethink the world by signing up for MicCheck Daily.