Donald Trump Of Course Used the Miss Universe Steve Harvey Blunder to His Advantage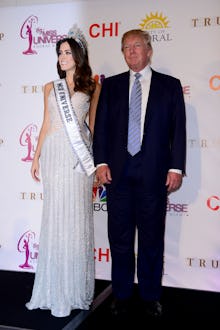 The real winner of Sunday's Miss Universe pageant may have been real estate mogul and presidential hopeful Donald Trump, who has since managed to make the beauty contest — with which he is no longer affiliated — all about him. During the course of the evening, the pageant's host Steve Harvey crowned the wrong contestant, making for an all-out awkward and live moment.
Enter Donald Trump. 
"Very sad what happened last night at the Miss Universe pageant," he tweeted. "I sold it 6 months ago for a record price. This would never have happened!"
Trump started the night on an encouraging note, commanding his Twitter followers to "WATCH" the contest and praising the new Miss Universe Organization owners: 
Following Harvey's alleged cue-card fumble — Miss Colombia was named 2015's Miss Universe, only to have the crown taken off her head and given to Miss Philippines — Trump turned self-congratulatory, retweeting calls for his renewed ownership of the pageant. 
Where is Trump when you need him? In September, the Republican frontrunner relinquished control of the MUO, selling it to WME/IMG shortly after he bought out NBC's share in the pageant. This followed NBC Universal's and Univision's decisions to sever ties with the company in June, after Trump insinuated that Mexican migrants were "killers and rapists."
On Monday Trump he has a "very cool" solution to the dual-crowning debacle: "I think I'd make 'em a co-winner," he said on Today. "I would recommend that they go have a beautiful ceremony, which is good for the brand and good for Miss Universe, and do a co-winner."
Trump also said on Today that "things like [Harvey's gaffe] do happen" in the course of a live broadcast. Sometimes a person messes up, says the wrong thing — and no one understands that defense better than Trump.