How to Watch SpaceX Falcon Rocket Launch Livestream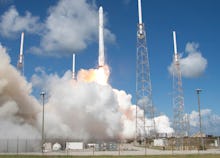 Monday will be a good day for entrepreneur Elon Musk and his SpaceX company if his new Falcon 9 v1.1 rocket successfully launches from Cape Canaveral at 8:33 p.m. EST. The reusable rocket was supposed to launch on Sunday, but Monday showed a 10% better chance of landing, Musk announced on Twitter. The new flight would end SpaceX's six-month hiatus from space travel, which started in June when a rocket exploded minutes after launching from a faulty strut. Audiences can watch the launch live from the SpaceX website starting at 8:10 p.m. EST.
The new 229.6-foot tall rocket has a structure different than its predecessors, with an upgraded engine that's more powerful and has an easier recovery, the Verge reported. With these upgrades, the new rocket's performance is better by 30%, SpaceX President Gwynne Shotwell said in March, according to Forbes.
The main mission of the rocket is to put 11 satellites into orbit for communication company Orbcomm as part of its second and last OG2 Mission, according to the SpaceX website. The satellites will be released 20 minutes after take-off and will join the other six Orbcomm satellites already in place, according to a press release.
Also being attempted for the first time by SpaceX is a land, rather than its previous floating water pad landing, NBC reported. The plan is for the first stage of the rocket, where the fuel and engines are, to detach and fall back onto earth, the Verge reported. The target is SpaceX's landing site named Launch Complex 1 and located at Cape Canaveral. Success would verify the reusability of the rocket, which would be revolutionary in space technology, ABC reported.  
Three water landings have been attempted by SpaceX, ABC reported. The newest Falcon 9 got the green light during its static test on Dec. 18, the Verge reported.
Below is footage of the June 28, 2015 rocket explosion that prompted SpaceX to regroup: