Lupe Fiasco Announced 3 New Albums and a Tour for 2016 — Here's What We Know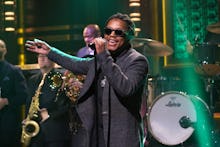 Rapper Lupe Fiasco dropped some very big news with a very short tweet on Sunday: He will be releasing three new albums in 2016, and the first will be called Drogas.
Lupe Fiasco released his most recent studio album, Tetsuo and Youth, back in January. He also dropped a surprise mixtape, Pharoah Height, in August. According to his website, Lupe Fiasco already has dates lined up for his 2016 #TourForTheFans and will be crisscrossing the U.S. to play a series of shows in January and February. 
Lupe Fiasco hasn't released much more information about his three new upcoming albums other than what he offered in his initial Twitter announcement, but he did take the time to respond to Pitchfork's coverage of his news by tweeting out, "I will literally pay you guys thousands of dollars not to review them."