2015 Was the Year We All Decided to Stop Caring About Sexual Labels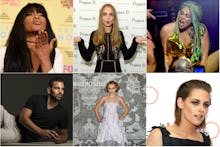 The most fascinating thing about sexual orientation in 2015 is how many people have decided that they'd just rather not have one.
From Lily-Rose Depp and Miley Cyrus to Scream Queens' Keke Palmer, a slew of celebrities publicly embraced a label-free approach to sexuality this year, refusing to define their sexual orientation in traditional terms. In fact, a quick glance at Google Trends indicates that the term "sexually fluid" was essentially un-searched for until about halfway through the year, when it basically exploded.
Of course, this surge in popularity doesn't mean people's sexual desires have changed, so much as the language they use to describe these desires. "Sexually fluid," put simply, just means that someone may be attracted to a person of any gender, and that such attractions are subject to change at any time. And while some people have been self-identifying as sexually fluid for many years, nowadays it seems that an increasing number of folks are willing to embrace the gray areas of their sexuality.
"The fact that more people are coming forward doesn't mean that there are actually more 'sexually fluid' people," Lisa Diamond, a University of Utah professor and author of a book on sexual fluidity, told the Wall Street Journal in August. "It simply means that more people are able to crystallize their experiences and find a way to describe them."
And describing them they are indeed. Below, 11 key moments that helped facilitate sexual fluidity's entrance into the cultural zeitgeist in 2015. 'Cause love has no labels, y'all. 
Broad City's "Coat Check" episode
In this March episode of the beloved Comedy Central show, Ilana wound up in bed with her doppelgänger, Adele, at which point she momentarily freaked out about the whole situation. "I have sex with people different from me, you know? Different colors, different shapes, different sizes," she said. "People who are hotter, uglier, more smart, not more smart, innies, outies. I don't know, a Catholic person."
What she doesn't freak out about, though, is the fact that Adele is a woman. Thus, many viewers and critics praised Ilana for bucking labels and cited the episode as an honest depiction of how sexual fluidity works in real life. 
"Ilana's same-sex encounter gives us the closest thing to a 'definition' for the character's purposely ambiguous sexuality we're likely ever to get," Jenny Kutner wrote for Salon at the time. "And it's still not entirely clear." 
And that's totally OK. 
Miley Cyrus' Paper interview
One of the loudest voices of the sexual fluidity movement, Cyrus didn't hold back this year in telling people how few fucks she gave about sexual labels. Her most widely cited declaration came from her June interview with Paper, in which she broke her philosophy down into three simple sentences for those curious about her sexuality.
"I am literally open to every single thing that is consenting and doesn't involve an animal and everyone is of age," she said. "Everything that's legal, I'm down with. Yo, I'm down with any adult — anyone over the age of 18 who is down to love me." 
Maria Bello's book Whatever... Love is Love
Bello, who played Lil in the iconic 2000 film Coyote Ugly, revealed that she was in a relationship with a woman back in 2013. After many outlets crafted headlines declaring that she had "come out as gay," she decided to write a book about how she actually doesn't identify as anything. The result is a touching exploration of the labels we assign ourselves in life, and whether or not they serve us.
In a 2015 interview with the Daily Beast, Bello encouraged readers to "figure out which labels disempower you and which labels shine with the light of the beauty of who you are or are meant to be."
The Cara Delevingne Vogue debacle
One of Taylor Swift's premier squad members, the model and actress is something of a poster girl for the sexual fluidity movement. She received a lot of attention this year for her same-sex relationship with St. Vincent, which a June Vogue article suggested was the result of a bisexuality "phase." 
Something of a public backlash ensued, which led to an online discussion defending the legitimacy of sexual fluidity. An unamused Delevingne told the New York Times the following month that "my sexuality is not a phase. I am who I am." She also told the Telegraph that she was reluctant to embrace any particular sexual label because "I'm young, I'm having fun, I don't want to pretend to be something I'm not."
Ruby Rose in season 3 of Orange is the New Black
While this Netflix favorite has highlighted the fluidity of human sexuality from the get-go (what with main character Piper's complicated sexual past and present), this year's season sparked a nationwide discussion with the introduction of Stella Carlin, the sexy inmate played by Australian actress Ruby Rose. 
While Rose herself doesn't identify as sexually fluid (she told Vanity Fair that she came out as a lesbian at the age of 12 after developing a major crush on songstress Mariah Carey), her role on OITNB inspired a whole host of hetero female viewers to wonder whether or not they might be more sexually fluid than they realized (though that didn't come without its own criticism).
Not Gay by Jane Ward
Just when the year was looking like only women were capable of being sexually fluid, gender and sexuality studies professor Jane Ward came out with this book about straight white dudes who fuck each other. In Not Gay: Sex Between Straight White Men, Ward writes that just because a man may self-identify as "straight," it doesn't mean he's not at least a tiny bit interested in getting off with another dude.
The book went viral, prompting a number of Internet essays and interviews that asked the question of whether or not men can be sexually fluid. The actions of men cited in Ward's book suggest the answer is a big ol' "yes," even if such men ultimately choose to self-identify as straight.
Lily-Rose Depp posing for Self Evident Truths
In August, Johnny Depp's model/actress daughter posed for Self Evident Truths, a series that its website describes as a "photographic document of 10,000 people in the USA that identify as ANYTHING OTHER than 100% straight."
"She decided she wanted to be in @selfevidentproject because she falls somewhere on the vast spectrum, and I couldn't be happier to welcome her to the family," photographer iO Tillett Wright wrote of Depp on the project's Instagram. "She's a tiny gem of a good human."
Kristen Stewart's Nylon interview
Everyone's fave human-turned-vampire faced scrutiny regarding her sexual orientation this year as a result of her relationship with visual effects producer Alicia Cargile. But she finally broke her silence and declared her fiercely anti-label stance in an interview in the September issue of Nylon.
"If you feel like you really want to define yourself, and you have the ability to articulate those parameters and that in itself defines you, then do it," she told the magazine. "But I am an actress, man. I live in the fucking ambiguity of this life and I love it. I don't feel like it would be true for me to be like, 'I'm coming out!'"
"I think in three or four years, there are going to be a whole lot more people who don't think it's necessary to figure out if you're gay or straight," she added. "It's like, just do your thing."
Nyle DiMarco of America's Next Top Model
In a simple tweet, the first-ever deaf winner of America's Next Top Model proved that self-proclaimed sexually fluid men do indeed exist.
When a fan tweeted, "Nyle you have so much gays fans!, tell us, boys or girls?" at him, DiMarco responded with just "fluid," accompanied by a link to an Everyday Feminism article entitled, "How Fluid Sexuality Fits into the LGBTQIA+ Spectrum." Short, sweet and to the point!
Keke Palmer
The singer and Scream Queens actress told People this month that she's not about living a life with labels.
When asked about her October music video for "I Don't Belong to You," in which she's paired with a female love interest, she explained: "The video was to represent the young woman today – it's not the traditional woman anymore – and not the specifics of 'Am I gay? Am I straight? Am I bi?'" she said. "I'm making the rules for myself, and I don't have to be stuck down to one label."
Lots of everyday people
While celebrities may have been behind many of the major headlines regarding 2015's sexual fluidity boom, real-life young people were the driving force of the movement. A YouGov U.K. study released in August surveyed more than 1,600 adults and asked them to assign a Kinsey Scale number to their sexual attractions. The results indicated that nearly half of young people in the U.K. identified as something other than 100% straight. Meanwhile, the lesbian dating app Her took a look at its users and found similarly non-binary results. In July, Her reported that only 45% of its users identify as lesbian, adding that the past year saw big increases in women identifying as sexually fluid or bisexual.
If these numbers keep increasing and 2016 sees the cultural representation of sexual fluidity continuing to move in this direction, then who knows. Maybe, in the not-so-distant future, straight people just might become totally obsolete.