Here's What It's Like to Go to a Tattoo Parlor to Get a Fake Tattoo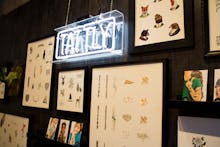 I don't have any tattoos, though I've long thought about getting one (or a few). The thought of a needle and ink on my skin doesn't scare me so much as does the idea of my falling out of love with a design, years down the line.
So when I first heard of Tattly — the temporary tattoo company that opened a pop-up shop in Brooklyn, New York, where such a thing seems perfectly normal — it was as if the solution to my fears had suddenly appeared.
Still, I was skeptical. What kind of adult invests in the experience of getting a fake tattoo? Aren't "tattoos" supposed to be synonymous with "permanent"? Or was I missing the point entirely?
A tattoo parlor in (almost) every sense
Tattly's pop-up shop has the makings of a real tattoo shop. It has an artsy kind of vibe going on, located in a space inside an art center in the Boerum Hill neighborhood of Brooklyn. The walls are lined with the framed designs by some of the more than 100 (real) tattoo artists the company has worked with so far. In the center of the room are two vintage-inspired barber's chairs, where customers sit and have their tattoos applied. There are just enough details to fool passersby.
"We've got this great storefront, and you walk by and it looks like an actual tattoo parlor," Ally Hoffman, one of the shop's employees, told me. "About once a day we'll have people come in thinking it's an actual tattoo parlor."
"What happens when people realize it's not?" I asked.
"Typically people love it," she said. "They just think it's so cute."
The details slowly reveal the nature of the shop. Between the two chairs is a small stand with the requisite tools: a pair of scissors, plastic water bottles and medium sponges, all for cutting, dampening and pressing on the tattoos.
"We use special Tattly sponges, so they have the right amount of water to soak through and transfer the tattoo, but not so much that water is dripping everywhere," Hans Hendley, the store manager, said.
Customers choose their tattoos — five for $25 for kids, eight for $40 for adults — then sit for the "artists" to have them applied. Plenty of the designs are ones you can order from Tattly online, where they cost $5 to $6 for two or $15 to $18 for a set of eight. But coming to the parlor gives you the benefit of a professional application, which is only fitting for the fake tats themselves. 
After all, these aren't the temporary, quarter-sized tattoo designs from your childhood.
A growing trend for grown-ups 
Tattly's founder is Tina Roth Eisenberg, a graphic designer better known by her Twitter handle and blog name, Swiss Miss. Eisenberg launched Tattly in 2011, after her daughter came back from a birthday party "with hideously designed temporary tattoos," she told Mic via email, "a complete insult to my Swiss aesthetics." 
She began researching tattoo production and reached out to other professional artists to come up with designs that look like the real thing. More than two months later, Tattly was established. Each artist is credited on the packaging and also receives royalties from any sales.
Tattly's design collection has since grown into a medley of tattoos that range from cute, cartoon-like designs to complex watercolor styles. There's even a collection by Tea Leigh, a tattoo artist known for her intricate hand-poked designs. They're a far cry from the quarter-machine tattoos we remember from childhood.
"I remember growing up and getting them out of Cracker Jack boxes, and they were kind of silly or not that great quality," Hendley said. 
The designs at Tattly include plenty of quirky inside jokes clearly marketed to a particular type of creative adult. There is a tattoo of the aperture symbol for a camera. There is a geometric representation of the "golden ratio," which is apparently a hit among architects and designers. There's also "Tattone," a play on the color swatches from the company Pantone. (The tattoo is actually just a translucent square with a code that reads "5K1 N," a clever spelling of "skin.")
Tattly's not the only company to have tapped into a growing market. Today, more than a dozen companies offer temporary tattoos, according to the New York Times. That's in part thanks to the boom in tattoos in general: More people have tattoos now than 10 years ago, with the total number of Americans with tattoos now hovering at about 20%. Among millennials the number is twice as high, according to the Pew Research Center.
The quality and designs for temporary tattoos have also dramatically improved, helping them become more popular. At this year's Met Gala, model Cara Delevingne wore an elaborate tattoo of cherry blossoms that looked deceptively real, though it was temporary. The Times reported that professionals have also embraced fake ink, from buyers at a Christie's auction to employees of SoulCycle and NPR (!).
Getting a taste of the real thing
On a recent Saturday afternoon, Tattly's small pop-up shop was filled with anywhere from almost a dozen customers coming and going every hour. One woman said she found out about the place at her yoga studio and decided to surprise her partner with a "tattooing" appointment as an early Christmas gift.
For all of the "adult" tattoos, though, plenty of customers shopping were teens and kids with their parents.
In fact, when I sat down to get my temporary tattoos, I sat next to what looked like a 5- or 6-year-old boy. The (only slightly) older-looking sister next to him proudly showed off a roaring bear on her forearm — the same tattoo, actually, I was about to get.
It's a moment where I thought, "Am I only as cool as a first-grader? Or is the first-grader as cool as the adults in the room?" (For the sake of my self-esteem, I decided on the latter.)
Seeing kids so interested speaks to the growing cultural pervasiveness of tattoos. There's a whole generation of parents who've grown up with tattoos, and getting them with their kids can be a bonding moment, Hendley said.
That was the case with Nicole Collins, who showed up at Tattly with her 13-year-old daughter. Collins, who has tattoos of her own, said the two had been looking for a place to get a henna design but instead stumbled upon Tattly. For her kid, she said, temporary tattoos like these are the "next best thing."
Her daughter, sitting in the chair, had her arm covered in black tattoos. They looked tame compared to the "Breathe" and "Conquer" tats stamped across her neck like a choker. 
Together, they made the small bird inked on my own neck pale in comparison. When given a chance to run wild, it's the kids who take the boldest approach to tattoos. Now adults can take a cue — without the commitment.