This Woman Livestreamed Her Assault at the Hands of Former 'Opie & Anthony' Shock Jock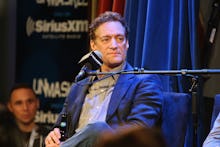 After being fired from his namesake radio show "Opie & Anthony" for posting racist, misogynistic and violent tweets, former co-host Anthony Cumia is now facing domestic violence charges. Over the weekend, Periscope user "DaniGolightly," later identified as 26-year-old Danielle Brand, recorded Cumia assaulting her, holding up her swollen hand for viewers to see. (Editor's note: This video contains disturbing footage.). 
At the beginning of the video, Brand, reportedly Cumia's girlfriend, says to the camera, "Hi, I'm in Long Island. I got my hand broken. I'm waiting for the police to come." She is suddenly interrupted by what appears to be a strike to the face from Cumia. As Cumia yells at her in the background, Brand says that Cumia took the phone away from her when she tried to call the police, then holds the camera up to two bruises on her body. 
Court documents allege that the abuse was far more brutal than what audiences were allowed to witness, with allegations that Cumia "stomped" on Brand's hand, strangled her and pinned her up against a wall, resulting in a fractured rib, swollen arm and chest pain, according to Newsday.
Prosecutors asked that Cumia's bail be set at $50,000. On Jan. 4, he will be tried for charges of strangulation, criminal mischief, unlawful imprisonment and assault.
Cumia didn't show remorse for his outrageous tweet storm in 2014, nor has he been apologetic for his current tweets, nor any of the other antics that went down during his time on the air. Perhaps some time behind bars will change his tune.