Glow-in-the-Dark Hair Might Be the Best Thing From This 'Star Wars'-Themed Hair Contest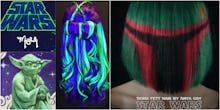 The Star Wars fandom universe is vast, touching dark ends of the internet — including the Instagrams of hairstylists and colorists.
In honor of the latest film in the franchise, Star Wars: The Force Awakens, hair gurus took to Instagram for an online contest called #StarWarsPopLocks. Led by several hairstylists on Instagram, including Samantha Daly (@bottleblonde76), Rachel La'Roux and Sam Daly (who share the handle @lollypoplocks), the contest called on Instagram users to post their best Star Wars-inspired hairstyles.
And did they deliver. The winning style was a Boba Fett style, designed by Anya Goy, a professional hair colorist and author of a book on rainbow-colored hair. Her "Boba Fett" hair — which recreates the character's famous full-face mask — will be the profile picture for @imallaboutdahair and @LollyPopLocks for the remainder of 2015.
But impressive as that is, it was the glow-in-the-dark hair that got our attention. As PopSugar notes, we've seen our fair share of rainbow hair but this one stands out — literally. Makeup artist Mishele DiMaria's neon-colored, glow-in-the-dark combo — one of several entries she made to the contest — used a blacklight to give off that outer space effect, according to her Instagram account.
She's previously used the technique for other hairstyles, like this one:
DiMaria created a few looks for the contest:
The winner, of course, was a little more subtly dramatic:
This was the second runner-up by Darya Kravtsova (@daradread):
And then there were more, like this colorful one... 
... and this spiky hair 'do.
Check out this fiery mane.
Oh, and these smoky styles.
And, well, some wilder ones.
Now you can't say you don't know what to wear to your local Star Wars screening.
h/t PopSugar