New Trial Date Set for One Baltimore Officer Charged in Freddie Gray's Death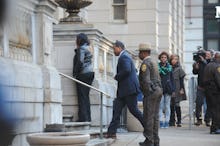 On Monday Maryland Judge Barry Williams set a retrial court date to try one of the Baltimore police officers charged in the death of Freddie Gray, Reuters reported. Officer William Porter will face the Baltimore City Circuit on June 13, where he will be tried for manslaughter. The case stems from Gray's death in April while in police custody, and Porter is the first of six police officers to be tried for allegedly violating department policy and playing a role in Gray's death. 
On April 12, Gray, 25, was taken into custody after running from law enforcement officers in Baltimore. While in police custody, Gray sustained injuries while being transported in a van, shackled, without proper safety restraints. 
Gray's death one week later sparked widespread protests across Baltimore, which were reinvigorated when, on Wednesday, trial proceedings came to a standstill when a judge declared a hung jury. The remaining officers who will face charges of assault are Edward Nero, Garrett Miller, Caesar Goodson, Brian Rice and Alicia White, according to the Associated Press.
The court's deliberation concerns at which point Porter should have called for medical attention on Gray's behalf. The prosecution argues Porter is guilty of not buckling Gray's seatbelt and of neglecting to call an ambulance in time when Gray said he needed help, the AP reported. An autopsy said Grey likely incurred his broken neck when the police van turned or stopped erratically. Porter testified that Gray didn't appear to be injured, and that he notified the driver of the van and a supervisor that Gray wanted to go to the hopsital, accoridng to the AP report.