Hillary Clinton Calls for End to Gay Conversion Therapy for Minors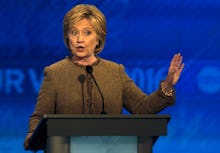 Democratic frontrunner Hillary Clinton made a strong statement on Monday by tweeting out a call to end gay conversion therapy for kids. 
Clinton unveiled her agenda for LGBT equality last week and included ending gay conversion therapy for minors among a longer list of objectives, but on Monday she reiterated her call to end such programs with a tweet in which the candidate said, "We should be supporting LGBT kids — not trying to change them."
What is gay conversion therapy? Gay conversion therapy, also known as reparative therapy or ex-gay therapy, is a controversial practice meant to change people from gay to straight. Former participants in these programs have described being forced to endure verbal abuse, subjected to electric shocks and being burned with copper coils while being shown gay porn.
Survivors of gay conversion programs "reported increased anxiety, depression and, in some cases, suicidal ideation," according to the Southern Poverty Law Center. 
The fight against the therapy: Numerous health organizations have condemned such "therapy" programs, including the American Psychological Association, which concluded in 2009 that "efforts to change sexual orientation are unlikely to be successful and involve some risk of harm, contrary to the claims of [sexual orientation change efforts] practitioners and advocates." 
Yet despite strong evidence that gay conversion programs are harmful, it is still legal in most states for parents to sign their children up for conversion therapy — with or without their consent.
Clinton isn't the only politician speaking out against gay conversion programs for minors. In 2013, under the leadership of current Republican presidential candidate Chris Christie, New Jersey became the second state to ban therapists from practicing conversion therapy on people under the age of 18. Oregon followed suit this year.
Clinton's direct mention of the need to protect minors from harmful gay conversion programs is an acknowledgment on the part of her campaign that, months after the U.S. legalized same-sex marriage, there is still much work to be done in achieving equality for the LGBT community.