President Obama to Be Next Guest on Jerry Seinfeld's 'Comedians in Cars Getting Coffee'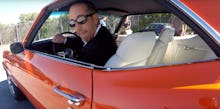 President Barack Obama is set to make an appearance as the first elected official on Jerry Seinfeld's web series Comedians in Cars Getting Coffee, Bloomberg reported. Seinfeld and Obama drove around the White House grounds in a 1963 Corvette Stingray, chatting over coffee, according to the Washington Post. The show, which is part of the first episode of the seventh season, was filmed on Dec. 7, which was the day after Obama did his third Oval Office address, to discuss terrorism after the San Bernardino attacks, but it will air online on Dec. 30. 
"He's done some really good work as a monologist at those correspondents dinners — that's how he qualifies to be on the show," Seinfeld told the Washington Post, saying it was an honor. Seinfeld called it an "unforgettable day" in a statement released by Crackle, according to CBS. 
The White House called the experience "an opportunity to pull back the curtain for Americans on life in the White House," in a statement, according to the New York Times. Unlike other guest television appearances for Obama, this one had no policy angle, only focusing on the "lighter side of the presidency," the statement said. Earlier this month, Obama entered the wild with survival expert Bear Grylls in Running Wild With Bear Grylls in order to promote climate change awareness. 
It's also an exciting moment for the president himself, who named Seinfeld as one of his favorite entertainers during a Marc Maron podcast earlier this year. 
Obama and Seinfeld also taped in the Map Room, Diplomatic Room and China Room, Bloomberg reported. They also grabbed coffee in the staff dining room.
Comedians in Cars Getting Coffee came out in 2012 and aimed to show an everyday, relaxed side of comedians. Other celeb guests slated to grab a cup of joe with Seinfeld are Will Ferrell, Steve Martin and Kathleen Madigan, according to CBS. 
The trailer for the new season is below:
Correction: Dec. 21, 2015