New York City Will Offer Trans People the Same Protections as Everyone Else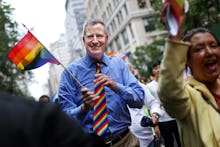 Many New Yorkers have the ability to go to work, get an apartment or get medical care without worrying about their gender identity. Now, thanks to New York City's Human Rights Commission, transgender New Yorkers can enjoy these rights too. 
The city's Commission on Human Rights recently amended an existing law that defended the rights of transgender New Yorkers. While the amendment originally aimed to protect anybody's gender identity or expression, the update specifically protects New Yorkers who identify as transgender in several important areas of life, including housing, employment and medical discrimination. 
According to NBC News, 25,000 of New York City's 8 million people identify as transgender. Mayor Bill de Blasio spoke about the guidelines in a press conference, NBC reports. 
"Today's new guidelines strengthen those laws by ensuring that every transgender and gender non-conforming person in New York receives the dignity and respect they deserve," de Blasio told the audience. "New York has always been a diverse and welcoming city and our laws are designed to protect every New Yorker, regardless of their gender identity."
The protections make it illegal for employers to promote, hire or fire a person because of their gender identity. Those same kinds of protections apply to landlords, renters or real-estate agents looking to discriminate against potential renters or buyers. It also applies to any public employee who does not accommodate someone's perceived gender. 
One of the law's most progressive aspects is that it requires landlords, employers and public servants to use someone's preferred gender pronoun, as well as their preferred name and title. This means that a person who refers to a transgender woman as "he" or "Mr." will be slapped with a heavy fine. 
Additional protections include barring the following: stereotyping based on sex, enforcing gender-specific uniforms, providing gender-discriminatory employment benefits. and engaging in harassment or retaliation. 
"Transgender New Yorkers are grateful to Mayor Bill de Blasio for expanding the human rights law to include firm boundaries and spelling out penalties, to remind all that discrimination based on looking different is not the character of our city," Melissa Sklarz told Mic. Sklarz, a transgender woman, is the board co-chair of the Empire State Pride Agenda.  
Sklarz also pointed out that the original bill was passed when de Blasio was a New York City council member. "It is only fitting that the law becomes clearer today under this mayor," she said. 
The move comes after a year of mixed results for transgender protection from city governments. In November, the Houston LGBT rights ordinance HERO was repealed after a contentious battle. This also comes at the end of a record year for trans violence and deaths.