Adele Opens up About Social Media, Streaming and Motherhood in 'Time' Cover Feature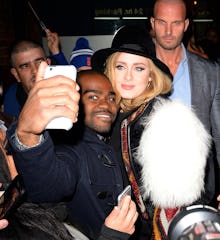 Adele hits newsstands today in a striking cover feature for Time magazine, opening up in a series of interviews about her relationship with fame. Even in the wake of her record-smashing success with 25, Adele remains determined to stay herself, and spoke to Time about her views on the artist as a brand, keeping her album off streaming services, motherhood and the social media hiatus she took while making her latest record.
"Privacy is key to being able to write a real record, whether people like it or not," the singer told Time. "My life has changed so much, but I've made the realest record I can make, and it's the real part of me. How am I supposed to write a real record if I'm waiting for half a million likes on a fucking photo? That ain't real."
Read more:
Adele's love of privacy is infamous; she has said that fame is "quite frightening" and "very toxic." She announced the release of 25 on social media, but before that, her Twitter account was fairly quiet, mostly used to promote her friends' endeavors and say thanks to her fans. It hasn't changed too much since her album dropped, reinforcing the philosophy she presented to Time: While she's not exactly comfortable with fame, she's accepted it on her own terms. 
Holding out on Spotify: Adele's music won't be available on streaming services such as Spotify or Apple Music anytime soon. The singer is committed to preserving the integrity of her work, she said, and that "music should be an event."
"I'm proud of my decision," she said, referencing the for-purchase-only 25. "I would have been proud even if the album flopped. I would have been proud because I stuck to my guns, and I think it's really important as an artist that you do that."
25, of course, has been far from a flop: It sold 5.98 million copies in its first four weeks, according to Billboard, and the corresponding tour sold out almost immediately. So there's a lot to be said for doing things Adele's way. Sticking to her guns is so far paying off. 
Refusing to see herself as a brand: "It makes me sound like a fabric softener, or a packet of crisps," Adele said. "I'm not that." Rather than billing herself as a sellable name, she intends to focus on what's important to her, no matter how famous she becomes.
"If you lose touch with yourself, no one's going to want to talk to you or listen to anything you're fucking doing," she told Time. "They'll just point at you and laugh. At you, not with you."
And for keeping herself grounded, she has motherhood to thank. She said that her son, Angelo, had given her a greater sense of purpose and pride in herself, that he had "been keeping [her] totally cool and calm" about her packed schedule since 25 came out. 
Keeping her family out of the public eye: With a schedule that shows no signs of slowing — she'll be touring Europe and North America in 2016 — the singer intends to keep her life as normal as possible and refuses to force her lifestyle upon her family. "This was my choice," she said. "It wasn't theirs."
In 2014, Adele pressed charges against paparazzi for taking photos of Angelo, and won a five-figure settlement in court. While she is coming to terms with her life in the public eye, she's determined to keep her family out of it. "If you try to intrude or come near my family," she told Time, "I'm a lioness."
Above all, she's the same Adele she's always been: