CDC Investigating Another E. Coli Outbreak Linked to Chipotle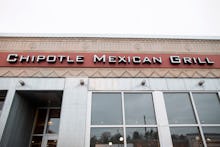 For Chipotle's PR department, investors and diehard fans, things keep going from bad to worse.
Following 43 closures of Chipotle locations in Washington state and Oregon in early November, the reported E. coli cases linked to Chipotles began to spread to a number of states during the course of the month. On Monday, the Centers for Disease Control and Prevention issued a statement announcing a separate, multi-state outbreak of a different strand of E. coli. Five individuals who have been infected said they'd eaten at a Chipotle during the week prior to falling ill. 
"CDC is investigating another, more recent outbreak of a different, rare DNA fingerprint of Shiga toxin-producing E. coli O26 (STEC O26) linked to Chipotle Mexican Grill," the CDC's statement said. "Because it is not known if these infections are related to the larger, previously reported outbreak of STEC O26 infections, these illnesses are not being included in the case count for that outbreak. This investigation is ongoing."
As of press time, the total number of reported cases from the original strain of E. coli clocked in at 53, according to the CDC's data, with reported cases in nine states across the country. The CDC counts 20 hospitalizations to date that are tied to the E. coli outbreak. 
Following initial reports of the outbreak, Chipotle pledged to adapt new food safety procedures and hired Seattle-based IEH Laboratories and Consulting Group to help it identify and implement new health strategies. 
"When I opened the first Chipotle 22 years ago, I offered a focused menu of just a few things made with fresh ingredients and prepared using classic cooking techniques," Chipotle chairman and co-CEO Steve Ells said in a Dec. 4 press release. "We do the same thing today, even with nearly 2,000 restaurants, and we are working harder than ever to ensure that our food is safe and delicious."
Yet even with those promising words echoed in Chipotle lovers' ears, another troubling public health issue linked to Chipotle struck on Dec. 9, when at least 80 students at Boston College fell ill after consuming food from a restaurant location near campus. The incident concerning Boston College students caused GI symptoms, and Fortune later reported that the number of cases had grown to 140 people. A representative speaking to CNBC said Chipotle believed the E. coli outbreak and the illnesses at Boston College were unrelated. 
Finally, on Dec. 16, Ells issued a blanket apology. 
"I'd like to take this opportunity to apologize on behalf of all of us at Chipotle," Ells wrote in an ad that Chipotle ran in major news outlets such as the New York Times, Wall Street Journal and USA Today, according to Fortune. "The fact that anyone has become ill eating at Chipotle is completely unacceptable to me, and I am deeply sorry."
"In the end, it may not be possible for anyone to completely eliminate all risk with regard to food (or from any environment where people congregate), but we are confident that we can achieve near zero risk," Ells wrote.
For the CDC's advice to consumers, head here.