'Bridget Jones's Baby' — Everything We Know About 2016 Film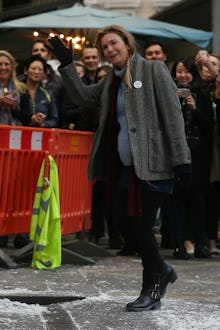 Fans of the Bridget Jones series rejoice, the third film in the franchise, a follow-up to 2004's Bridget Jones: The Edge of Reason, will arrive in theaters Sept. 16, Entertainment Weekly reports. The new film, Bridget Jones's Baby, will follow the heroine (played by Renée Zellweger) through a pregnancy and, unsurprisingly, another love triangle. 
Sadly, it doesn't seem as though Hugh Grant's character will be competing for Jones' affections this time around: Colin Firth will reprise his role as Mark Darcy, and Patrick Dempsey will play a "hot new billionaire named Mark Qwant," according to Entertainment Weekly.
"It's always wonderful to be back in London and I love this character so it's been a real treat to get to revisit it again," Zellweger told E! in October.
The film's plot will center around Jones' relationships with Dempsey's and Firth's characters, both of whom may be the father of her child, according to Entertainment Weekly.
The series' original film, 2001's Bridget Jones's Diary, was based on a novel of the same name by Helen Fielding (which, in turn, was based on Jane Austen's Pride and Prejudice). Since its release, the original Jones flick has become a rom-com classic and regularly appears on lists of the best films in the genre.
Sharon Maguire, who directed Bridget Jones's Diary, will return to direct Bridget Jones's Baby, according to the film's official Facebook page. So far, no trailers or teasers have been released.