Kim Kardashian West and Kanye West Donate 1,000 Pairs of Shoes to Soles4Souls Charity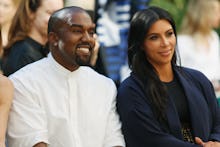 Santa Claus or Kim Kardashian West? Earlier in December, Kardashian West made a Twitter pledge on behalf of herself and husband Kanye West: The couple would donate 1,000 pairs of shoes to Soles4Souls. Now, they've officially made good on their promise, the organization reported Monday, by donating 1,000 pairs of shoes to the charity, which sends shoes to populations affected by natural disasters, just in time for Christmas. 
"The quantity and quality of the Adidas and Kardashian Kollection donation from Kanye and Kim Kardashian West is really extraordinary," said President and CEO Buddy Teaster.
Since 2006, Soles4Souls has sent 26 million pairs of shoes to 127 countries and throughout the U.S., according to the organization's website. It has helped victims of Hurricane Katrina and the 2004 Indian Ocean tsunami as well. The high school student who inspired Kardashian's donation, Amanda Flores of Andover, Kansas, has upped her target collection number to 25,000, according to Soles4Souls. Her original goal was 2,000 pairs.
Anyone still looking to make a last-minute holiday donation can get involved here.