5 Stories That Will Challenge You to Rethink the World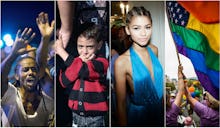 That's what we aim to do each day with MicCheck Daily, our evening newsletter that gives you brief, powerful stories that take on the news or facts you thought you knew.
Here's our Dec. 14 edition:
You can tell your mom that your habit of swearing like a sailor actually means you're smart.
A recent study in the journal Language Sciences revealed that people who use lewd language tend to have larger lexicons (on top of being more emotionally resilient).
All of the headlines are celebrating Saudi Arabia's election of 20 women to local government — but it's premature to laud it as major progress.
The myth that suicides spike around the holidays is false — they actually drop.
"Genetically modified" food tends to freak people out, but there's a new gene editing process that eliminates one of the major concerns: Mutant genes.