Mariah Carey's 'All I Want for Christmas Is You' Reaches Top 20 on 'Billboard' Hot 100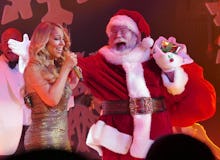 "All I Want for Christmas Is You" may officially qualify as a Christmas classic: Billboard reports that Mariah Carey's 1994 hit — which took only 15 minutes to write — has cracked its Hot 100 Top 20, achieving a new all-time-high ranking at No. 18. While the news may not come as a surprise to anyone who has ever entered an airport or mall during the holiday season, Carey's Christmas success is more than two decades in the making. 
Read more: 
"Thousands of original Christmas songs have been written in the last 20 years," Walter Afanasieff, co-writer of the holiday earworm, told Billboard in 2014. "It's not like no one writes Christmas songs — everyone is trying to get a Christmas song. But for whatever reason 'All I Want for Christmas Is You' just became that song. I believe 'All I Want For Christmas is You' will be the most successful, popular Christmas song of all time."
Maybe. Carey's Christmas jingle sits firmly atop the Holiday 100, but, "like a string of Christmas tree lights freshly taken out of storage," according to Billboard, the song's path to the Top 20 has been "tangled." It was originally released as a radio-only single, and the fact that it wasn't commercially available discounted it from the Hot 100's running. In 1998, the Hot 100's qualifications expanded to include non-commercial singles, and again in 2012, to include older tunes. "All I Want for Christmas Is You" climbed from 83 in 2000, to 29 in 2012, to 21 later that year. 
Carey has expanded her hold on Christmas into a Hallmark movie entitled A Christmas Melody (not to be confused with A Christmas Carol), in which the pop star both acted in and directed. The song famously took center stage in 2003's Love Actually, and got a facelift with 2011's Justin Bieber duet.  
All of which is to say, if Carey's "All I Want for Christmas Is You" is still going this strong 20 years after its debut, chances are it's not going anywhere anytime soon. For everyone who just can't take all that holiday cheer, never fear: A "nightmare version" of Carey's classic is here.