James Franco Remaking Classic TV Movie 'Mother May I Sleep With Danger?'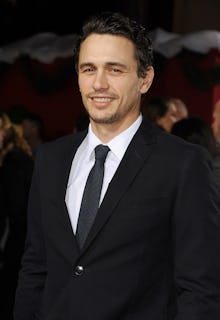 In case you were hankering for a remake of the '90s TV movie, campy classic Mother May I Sleep With Danger? James Franco is here to answer your prayers. Vulture reported that the actor has signed on to produce an updated version of the movie set to air on the Lifetime network (of course).
The original Mother May I Sleep With Danger? first aired on NBC in 1996 and starred Tori Spelling as Laurel Lewisohn, a wide-eyed college student who brings her awesome new boyfriend, Kevin, home to meet her family. Kevin, of course, has a dark past, and it's up to Laurel's mom, originally played by Lisa Banes, to help her daughter.
Spelling will return, in some form, in the remake, according to Vulture, but so far there have been no details released about casting. There's also no word regarding how the plot will be updated for the new millennium (a plot point in the original movie revolved around a character receiving a crucial fax).
Franco himself wrote the story for the remake, and Amber Coney wrote the script, according to Hollywood Reporter. The movie is set to air sometime in 2016.