When Does 'Star Wars: The Force Awakens' Come Out on Blu-Ray? Updates on Release Date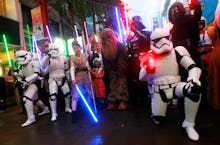 Chiang Ying-ying/AP
Star Wars: The Force Awakens, the seventh film in the epic franchise, opened last weekend, smashing box-office records and winding up with the biggest debut in history. Now, fans are already looking to the future and wondering when they'll be able to get their hands on a Blu-ray copy of the newest film. 
Never fear, because pre-order for The Force Awakens on Blu-ray is already up on Amazon for $24.99. There's no ship date yet and a message on the page reads, "This title has not yet been released. You may pre-order it now and we will deliver it to you when it arrives."
Read more:
Australian entertainment retailer JB Hi-Fi is also offering the Blu-ray of Star Wars: The Force Awakens for pre-order, and includes a ship date of April 20, although that is, so far, unconfirmed as a release date.
While you wait for the newest movie to come out on Blu-ray, why not binge watch all of the other six Star Wars films? Or just go see The Force Awakens in theaters again.