Snoop Dogg Releases New Song "I'm From Long Beach" — Here's How to Listen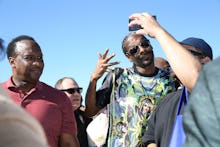 On Monday veteran rapper Snoop Dogg released a new single, titled "I'm From Long Beach," as a tribute to his hometown of Long Beach, California, according to Complex. The song follows the May release of his 13th album Bush. The song was released on Empire's SoundCloud but can be also be purchased on iTunes. 
The lyrics are straightforward, with Snoop Dogg rapping, "If you want to find me, come to Long Beach/ 213 is where I be, I'm from Long Beach."
Long Beach has special place in Snoop Dogg's heart. Last month, he released a mixtape hosted by DJ Drama called Beach City, according to Vibe. The 21-track rap party showcases Long Beach artists, featuring Snoop Dogg on eight tracks, and is part of his LBC Movement. "The purpose of the movement is to bring Long Beach, California, artist[s] together and to unite the city," according to the website. 
But in September, there were rumors that gang members had banned Snoop Dogg from entering his old neighborhood, Hip Hollywood reported. Snoop Dogg went online to defend himself, calling himself the "King of Long Beach," and that some guys are just mad because he's more focused on "helping out the kids" and putting "positive things in the hood."
For Thanksgiving, Snoop Dogg partnered with VIP Records and city officials to donate hundreds of turkeys to Long Beach residents, CBS reported. "It always feels good to come back home and see family members and see friends," he said, according to CBS. "Just to come back and give love."
The new track, "I'm From Long Beach," is below:
Source: Soundcloud
Correction: Dec. 22, 2015