Google Will Create a Joint Venture With Ford to Make Self-Driving Cars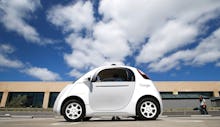 Ever since Google debuted that spooky and electrifying video of a car driving itself, everyone wants in on the self-driving car game. Ford, Nissan, Chevy, Mercedes-Benz — these car companies started rolling out prototypes and talking about the future. But none of them had Google's help — until now. 
Google is teaming up with Ford for a joint venture that will build its self-driving cars, Yahoo Autos reports. The venture will be a totally separate legal entity from Ford, but it will take from the best of both companies. The deal is "understood to be nonexclusive," according to Yahoo Autos, which sounds like Google will still mess around with other auto manufacturers if it wants other partners in the future.
The deal was set to be formally announced in January at Consumer Electronics Show, but so much for that.
Manufacturing cars requires a robust labor force, industrial infrastructure, supply chain and distribution — none of which Google can boast in the automotive space. But by pairing with Ford, Google piggybacks off of a multibillion-dollar manufacturing empire that's more than 100 years old.
Ford has been rolling out a self-driving Ford Fusion, but the Google partnership gives Ford the mapping technology, the experience with testing and legislation and the design of that cute little two-seater we've seen in all of the previews.
After Google went through a corporate restructuring, John Krafcik was appointed to be the CEO of self-driving car initiatives. If Krafcik runs this new venture, he should be well prepared: He worked for Ford for 14 years earlier in his career.