Selena Gomez Has a 'Fatal Attraction' in Her Video for "Hands to Myself"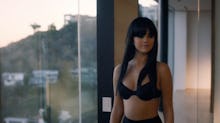 Selena Gomez plays "sexy stalker" in her new video for her song "Hands to Myself." She walks around a famous man's home in a bra and panties. She writhes on his bed. She tries on his shirts. She even has an obsession wall filled with photos of him.
Through all this, she conjures up a stereotype older than even she is — one that's been the source of debates about feminism, sexism and more for decades.
Perhaps the best-known sexy stalker in pop culture is Glenn Close's Alex Forrest, from Fatal Attraction. In that film, Forrest is cast as the deranged other woman having an affair with a married man, Dan Gallagher (Michael Douglas). She grows more and more fixated on Dan, becoming increasingly unstable. Most vividly, she boils the Gallagher family's bunny in a fit of passion and rage.
Gomez's take is a far tamer one, with no rabbits harmed. The "Hands to Myself" video is more reminiscent of the dozens of Fatal Attraction knock-offs than the original itself. For instance, here's Gomez's ensemble in the video:
And here's Ali Larter wearing a similar look in the 2009 Beyoncé film Obsessed:
The "sexy stalker" can be seen in a variety of different forms, from the woman obsessed with another woman (Single White Female) to telling the story with teenagers (Swimfan) to even a gender-swap (The Boy Next Door). The stereotype goes way back to the '70s, with Clint Eastwood's directorial debut Play Misty for Me.
The "sexy stalker" stereotype has garnered a great deal of criticism over the years. Much of it slams the idea of the sexually and financially independent woman as still being obsessed with a man. As Slate quotes from the book Backlash: The Undeclared War Against American Women, Fatal Attraction is a movie "in which the 'good mother' wins and the independent woman gets punished."
In his review of the film at the time, critic Richard Cohen noted that audiences easily accepted the "stereotype of the successful-yet-whacko career woman." Now, 28 years after Fatal Attraction's release, Gomez is using that same stereotype. "Can't keep my hands to myself," she croons as she tries on his shirts. "I mean, I could, but why would I want to?"
All told, "Hands to Myself" ends up being more The Bling Ring than The Roommate. As the end of the video shows, though her character is arrested, that's all it is: a character. She and her boyfriend (the famous man) are cuddled on the couch watching the video they made. 
Gomez's story has a much happier ending than most of the other "sexy stalker" films. Still, it's interesting to consider: How long will the "sexy stalker" stereotype stick around?
Watch the full "Hands to Myself" video below: