Model Who Lost Her Leg to Toxic Shock Syndrome Is Now Modeling Nikes for Nordstrom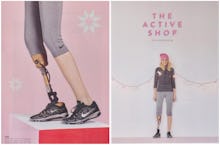 Lauren Wasser, who made headlines this summer when she sued the tampon company Kotex after losing her leg, is back on the scene. Since having her right leg amputated in 2012 from toxic shock syndrome she says she contracted while using a tampon, Wasser has been modeling mainly for her photographer girlfriend, Jennifer Rovero.
But earlier this month, Wasser, 28, debuted a new set of images to her 19,000 followers on Instagram: an ad campaign in Nordstrom's annual holiday catalogue.
In the images, she appears modeling some pieces of ever-popular activewear, along with a pair of Nikes, which proudly show off her prosthetic. 
"My first real job back in the modeling game," she captioned the first image. "In disbelief to have even been chosen for [Nordstrom]." 
In a new interview with Vice, who initially brought Wasser's story to the internet in June, Wasser reveals that she struggled with depression after the amputation, thinking that she wouldn't be able to keep modeling.
"I literally was laying there thinking that my life was over," she told Vice. "I would never be accepted again, I could never model again. No one would look at me the same."
It was actually "photo therapy," as she calls it, including pictures taken regularly by her girlfriend, that helped her along. "I would just mean-mug her, and be so angry, but through her showing me those pictures, I saw myself in a whole different light," she told Vice.
Gaining professional gigs can only help that therapeutic process — and Nordstrom, known for highlighting models with a variety of disabilities, is a great brand to do it. In July 2014, the retailer included four people, all with different disabilities, in its anniversary sale catalog: Emilia Taguchi, 7, who has Down syndrome; Jillian Mercado, who uses a wheelchair; Alex Minsky, a former Marine who has a prosthetic leg; and Shaholly Ayers, who was born without her right arm below the elbow. 
In Wasser's new shoot, she isn't singled out for her body; rather, she's included alongside models who aren't disabled in any obvious way. That sort of representation matters in a world where disabilities can be insensitively glamorized: Earlier this month, Kylie Jenner who got all sorts of heat from people who are actually disabled for posing in a wheelchair for the cover of Interview magazine.
In fact, Wasser posed for her own real-life rebuttal:
Wasser getting back to the work that she loves further proves that losing a limb doesn't stop you from achieving your dreams, and loving yourself all the same. As she told Vice, "I think I'm more beautiful now than I've ever been, inside and out."