Selena Gomez Releases Sexy New Video For "Hands to Myself" — Watch It Here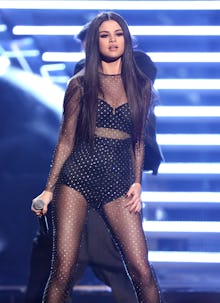 Former Disney Channel star Selena Gomez is no longer a wizard of Waverly Place — and it shows in her sexy, new "Hands to Myself" music video that likely left ex-boyfriend Justin Bieber and plenty others drooling. 
The 23-year-old released the music video for "Hands to Myself" on Monday, and it features Gomez stalking an ex-boyfriend, played by model Christopher Mason, all while stripping down to her underwear and touching herself sensually in various parts of his sprawling, not-so-humble abode. Gomez is escorted by police in the end, but not before she stripped down for a provocative scene in his bathtub.
Gomez tweeted, "Sorry for snooping, Chris" when the video dropped. 
Watch the full video below via Apple Music: 
Gomez performed "Hands to Myself" and a selection of other tracks from her latest album Revival while surrounded by runway models at the 2015 Victoria's Secret Fashion Show that aired Dec. 8. Gomez donned a plunging, silk, black ball gown that gave the models a run for their money. 
"Now, in the 16th year of her Barney-launched career, the singer's artistic center is coming into focus as a shy, assured, slightly mournful sultriness, a sense of diffusion and restraint," Spin's Jia Tolentino wrote in her review of Gomez's latest and sixth studio album.