Spain Celebrates $2.45 Billion El Gordo Lottery Drawing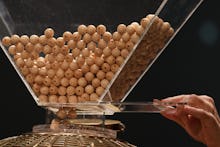 Pablo Blazquez Dominguez/Getty Images
Every year, Spain focuses its attention on an annual tradition and, quite literally, a national treasure — the countrywide Christmas lottery El Gordo. The pot this year totaled $2.45 billion, Reuters reported, and the lucky individuals who drew winning numbers on Tuesday came from the country's southern region. El Gordo, which translates to "the fat one," is not only the biggest drawing in Spain; it's the world's largest. 
The televised drawing on Tuesday was broadcast live from Madrid. The lottery's biggest winners this year were a cluster of residents from Roquetas de Mar, which is located in the south of Spain in the seaside region of Almeria. Together, the group of winners took home took home $496 million. An additional 1,600 winning tickets carried about $434,800 in prize money, the New York Times reported. 
Spaniards have been participating in El Gordo for a full two centuries. The lottery's origins date back to 1763, when King Carlos III ruled. The minister of tax at the time established the yearly drawing under a different name as a charitable event.  
Each year, the national lottery bolsters collectivism as people band together in hopefulness to celebrate the tradition, and as the Times pointed out, nothing can keep Spain from its beloved national lottery — not even the civil war that raged from 1936 to 1939.
This year, El Gordo comes at a crucial time for Spaniards, who are restless for some good news after reeling from a torrid economy that's left a quarter of the workforce unemployed, according to Reuters. What's more, elections on Sunday sent Spain tumbling into a moment of political uncertainty. The People's Party, which represents the country's conservative sect, lost nearly a fifth of its electoral support, and the position of prime minister is now up for grabs, leaving the government of Spain at a juncture that could go one of five ways, according to the Washington Post. 
Here is a series of photos that depict the Christmas lottery drawing this year:
Correction: Dec. 22, 2015