'Twin Peaks' on Showtime: Cast, Teaser and Everything We Know About New Revival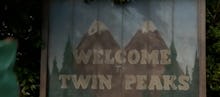 A minute-long teaser for the 2017 revival of the 90s cult TV seriesTwin Peaks was released on Friday, MTV reported. The new 18-episode series, currently in production, will air on Showtime, boasting the returns of director and creator David Lynch and co-creator Mark Frost.
"Location sometimes becomes a character," Deputy Hawk, played by Michael Horse, says in the teaser. "There are a lot of holy places up here, a lot of sacred places. I can't put my finger on how I would describe it." The trailer concludes with Twin Peaks' characteristic supernatural flair. 
Original cast members returning include Kyle MacLachlan as FBI agent Dale Cooper, Dana Ashbrook as Bobby Briggs, Sheryl Lee as Laura Palmer and Kimmy Robertson as Lucy Moran, according to IMDb. Joining the cast are Amanda Seyfried and Balthazar Getty.
Lynch briefly dropped out of the project back in April, announcing budget problems via Twitter, according to MTV. Showtime was quick to resolve the problem and the old cast joined hands in a video supporting Lynch, so it became a false alarm, according to the Hollywood Reporter.
"This damn fine cup of coffee from Mark and David tastes more delicious than ever," Showtime CEO David Nevins said in a statement echoing one of Agent Cooper's many idiosyncrasies, according to Rolling Stone. "Totally worth the extra brewing time and the cup is even bigger than we expected." 
The original two-season series followed the investigation of the murder of teenager Laura Palmer, and ended almost 25 years ago in 1991. 
Watch the teaser below: