Kylie Jenner Shared a Male Fan's Powerful Story of Surviving an Abusive Relationship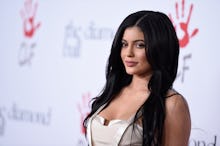 Our culture tends to assume that most survivors of sexual assault and abuse are female. Even if we know that abusers don't just target women, it's easy to forget that anywhere between 5% and 14% of sexual assault victims are men, because so many of their stories are left untold.
Perhaps this is why Kylie Jenner used her massive Instagram power for good on Monday by sharing a heartbreaking yet uplifting story of one man's personal struggle in a severely abusive relationship. 
As part of her #IAmMoreThan anti-bullying campaign, she reposted an Australian fan's post that began with "#IAmMoreThan a victim of rape..." (Editor's note: The details of the following narrative are graphic and disturbing.)
"I was with my ex partner for just over a year. Things were great at the start," Matteo Bologna (whose Instagram account is private) continues. "Until he got addicted and started to rely heavily on the drug crystal meth. That's when things started to get abusive and extremely violent, and I started to lie to my friends that I wasn't seeing him because they knew how abusive he was."
He added that throughout the relationship he had to "cover marks and bruises with makeup." Yet he stayed in the relationship because he "believed that [he] could change him."
"One day we went out to a club and he drugged me," he added. "I woke up tied to a bed and was gang raped by him and seven other people. He made me believe that I deserved the abuse and I would take it." Things only got worse from there, with the abusive ex later assaulting Bologna after luring him back to his apartment to apologize.
"Stupidly I went, as soon as I arrived he grabbed the back of my head and smashed it into a brick wall, whilst choking me he forced himself on me."
Bologna said that it took a long time for him to admit any of these details to friends and family due to a mixture of denial and shame.
"I didn't tell my parents about the abuse until about a year later, and told my friends that I managed to get him off me because that's what I wanted to believe," he wrote. "Though no one should be ashamed of domestic violence and rape. It's never your fault and you should always speak up and help is out there. If you have experienced and are going through something similar, please don't hesitate to seek help."
Male survivors of sexual assault are more common than we think. In 2010, the Centers for Disease Control and Prevention reported that 1 in 71 U.S. men have experienced rape or attempted rape at some point in their lives. Other studies put that number even higher, with the Rape, Abuse and Incest National Network estimating that 1 in 33 men have experienced rape or attempted rape. Furthermore, it's likely that a number of these male victims, like Bologna, were abused while in same-sex relationships, as researchers have found in the past that "rates of domestic violence among same-sex couples [are] pretty consistently higher than for opposite-sex couples." 
The words of encouragement to speak up and seek help are valuable when you consider that Jenner has a staggering 45.7 million follower count. Hopefully, with enough survivors speaking out and sharing their stories, more men will feel comfortable enough to seek the help they need to recover from these kinds of traumatic experiences. 
Editor's note: For more information about sexual assault, refer to the Rape, Abuse and Incest National Network. If you need to speak confidentially and securely about sexual assault, contact RAINN's free online helpline or the National Sexual Assault Hotline at 800-656-4673 (U.S.).
h/t Cosmopolitan