The Refugee Crisis Just Hit an Alarming Milestone, Says United Nations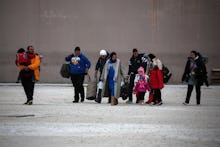 The United Nations and the International Organization for Migration report that the number of refugees that poured into Europe this year has surpassed 1 million people.
The IOM reports that about 3,700 people died while crossing into Europe, while more than 820,000, including more than 455,000 from Syria and more than 186,000 from Afghanistan, entered Greece via Turkey alone, according to NBC News.
Nearly 30,000 came into Bulgaria by land, while more than 150,000 others journeyed into Italy, almost entirely by sea, according to statistics posted to the IOM's website.
"We know migration is inevitable, necessary and desirable," IOM Director General William Lacy Swing said in a statement on the organization's website. "But it's not enough to count the number of those arriving — or the nearly 4,000 this year reported missing or drowned. We must also act. Migration must be legal, safe and secure for all — both for the migrants themselves and the countries that will become their new homes."
The one million tally stands in stark contrast to the actual quotas of refugees European nations have mutually agreed to permanently settle, which hovered at roughly 160,000 as of September. That month, the German and Austrian governments relented and admitted thousands of migrants, but the continent grew warier of admitting the refugees after November terrorist attacks in Paris involving at least one fake passport killed at least 130 people.
According to CBC, the levels of migration observed this year have not been seen in "half a century." They are primarily driven by internal conflict in Syria, where a brutal civil war between government forces under Alawite dictator Bashar al-Assad and an array of rebel forces, most prominently including the Islamic State group, has caused four million former residents to flee the country.
The Guardian additionally reported the levels of migration to Europe in 2015 are at least four times that of 2014.