Cards Against Humanity Lives Up to Its Name With This Threat to Desecrate Art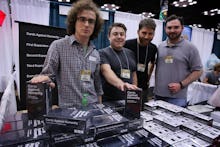 American avant-garde artist Robert Watts once created a piece that read, "The destruction of all art is art too. Please tear this up." In 2012, a man took this advice seriously, and was jailed for punching a hole in a $12 million Monet painting. Just this year, ISIS destroyed original Assyrian statues dating back to 704-690 B.C. in addition to ancient tombs and monuments. Now, the famously non-PC game Cards Against Humanity wants to shred up a $14,100 signed Picasso print. 
According to the Verge, the crew behind the card game used some of the $2.25 million they generated in revenue from their "Eight Sensible Gifts for Hanukkah" holiday package to purchase the authentic 1962 print, "Tête de Faune."
For the seventh night of Hanukkah, Cards Against Humanity gave its Eight Sensible Gifts subscribers the gift of choice: Donate the work to the Art Institute of Chicago or shred it into 150,000 tiny pieces. Each customer would receive a 1.5 mm scrap of a real Picasso.
When Mic reached out to Cards Against Humanity co-creator Max Temkin, he declined to comment.
Next week, the democratic process will speak for him. Voting begins on Dec. 26, and with the charitable spirit of the holiday seasons already on the downturn, it's not looking good for the print. The Cards Against Humanity team seems like they're already gearing up to turn the art work into confetti — their website loops a video of a laser printer poised for action.
Remember: The fate of this Picasso is in the same hands of those who once dreamt up a card game that includes bits of inspiration like, "When all else fails I can always masturbate to..." and "...the primal ball-slapping sex your parents are having right now."