7 Cocktails To Get You Through Being Home for the Holidays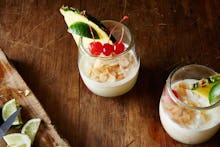 Alcohol and food during the holidays can help ease the grueling pain of mingling with distant relatives, like the aunt that insists on setting you up with her friend's nephew or the cousin that blabs on about their artistic processes as a graphic designer.
Alcohol is a true Christmas miracle, and with all the sophisticated and creative winter cocktail recipes out there, your relatives won't even realize you drowning yourself in alcohol as a survival tactic because they'll be too distracted getting drunk while praising your newfound bartending skills — it's a win-win. 
Here are some seasonal cocktail recipes to get you through holiday gatherings and impress your relatives:
Midwinter margarita 
"When we don't want to feel like it's the dead of winter outside, this is what we make. It takes us away," the genius creators of this margarita wrote of the recipe. There's nothing winter about this margarita, but there's the classic goodness of tequila, triple sec and lime juice, so who cares?
Mulled wine
Mulled wine is too easy, warm and delicious not to be had on Christmas. Just whip up some wine and spices, light a fire under it and drink up. 
Piña colada
Like a margarita, a bright and indulgent piña colada will help you forget it's winter (though the Christmas forecast may be enough).
Coquito
If a good old mid-winter frozen piña colada aren't the vibes you're going for, behold the coquito — like eggnog with a coconut twist.
New school spiked punch
Here's a list of five new-school holiday punch bowl recipes, including hibiscus punch and a "Dorothy's Delight" involving brandy, sherry, lemon and rooibos tea. Sounds about right.
Brown butter spiced ale
Brown sugar? Check. Butter? Check. Ale? Check. This sultry brown butter ale cocktail can win anyone over. 
Bourbon milk punch
Whip up some vanilla, sugar, heavy cream, milk and bourbon, and voila — you can finally get drunk off dessert.