Pagans Celebrated the Winter Solstice at Stonehenge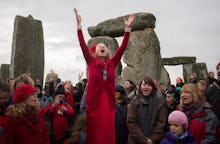 Matt Cardy/Getty Images
Christmas may be only days away, but on Tuesday morning, hundreds of pagans gathered at Stonehenge to celebrate a different December holiday — winter solstice. 
The solstice typically refers to the shortest day and the longest night of the year, although it technically marks the exact moment in the Earth's orbit at the North Pole is furthest from the sun. The solstice has long been celebrated worldwide, in many different incarnations.
Modern pagans, echoing the traditions of the Druids who may have held similar ceremonies at Stonehenge, gathered at the ancient monument on Tuesday morning to celebrate the solstice and watch the sunrise, reports the U.K.'s Metro.
Among the crowd were people identifying as pagans, Wiccans and Druids as well as, presumably, some tourists who came to check out the solstice scene. There were almost 5,000 people in attendance on Tuesday, the Belfast Telegraph reported.
This year's solstice at Stonehenge was reportedly one of the warmest on record, which may have contributed to the crowds. Another potential contributing factor? The number of practicing pagans in the U.K. may be on the rise. A 2013 Yorkshire Post article claimed that paganism "may be the fastest growing religion in Britain."