NYU Spends $1.1 Million to Renovate President's Penthouse While Students Drown in Debt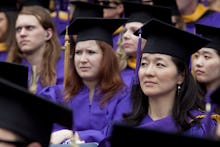 Last week, New York University made news after a low-income student was discouraged from applying to one of its graduate programs, after requesting a waiver for the $65 application fee.
"Please do not take this the wrong way but if $65 is a hardship for you how will you be able to pay the tuition of $60,000?" a director of graduate admissions at NYU wrote to Joshua Jackson in an email. The admissions official explained that there could be no exceptions to the fee because "the contribution from each applicant is essential in order for us to meet our expenses."
So, NYU cares deeply about fiscal responsibility. It also cares deeply about making sure that their top administrators are very, very comfortable.
According to a new report in the New York Times, incoming university president Andrew Hamilton is being lavished with a newly renovated "4,200-square-foot penthouse duplex with four bedrooms, four and a half bathrooms and an expansive rooftop terrace." The cost of renovating the palatial pad situated on the western edge of Washington Square Park? "At least $1.1 million, possibly double," according to the Times.
The school defended the move in a statement to the Times. "This project has nothing to do with any one president," NYU spokesman John Beckman wrote. "It is a renovation for the long term to turn what has been an event space for 15 years into a space that can both house NYU's future presidents and host fundraising events, visiting VIPs, etc."
When the hiring of the new president was announced earlier this year, NYU declined to discuss his compensation, but it's likely on par with the $650,000 compensation package he earned during his previous gig at Oxford University.
NYU isn't unique in offering extraordinarily decadent perks to attract candidates for high-profile administrative positions — the highest-paid public university presidents in the country can earn salaries upwards of $1 million each year. But what makes it so jarring is that NYU's notorious for its exorbitant cost of attendance. In 2011, the Village Voice reported that it was plunging students into more debt than any college in the nation, excluding for-profit colleges.
One year of attendance for an undergraduate student at NYU comes with a price tag of $70,000 ($66,000 of which is for direct expenses like tuition, room and board, and fees). The school's Pell Grant recipients — people with incomes low enough to qualify for the most generous federal financial assistance available to students — still graduate with a median $23,250 in federal loans.
The new NYU president will be given lots of money and be expected to make lots of money for the university in return. But there are few signs that the ocean of cash sloshing around will trickle down to students. The outgoing president once raised $3 billion in a record-breaking fundraising campaign that was more lucrative than any other before it in academic history. But during this era of financial success, tuition still swelled by tens of thousands of dollars.
Even if NYU completely abandoned its perks, eliminated its president's salary and put those funds toward student compensation, it would just be a drop in the bucket — the issue of skyrocketing tuition is bigger than over-allocation of funds for growing administrative costs. Still, there's something fundamentally amiss when you consider just how opulent the compensation for the job is. The salary range seems a better match for the financial sector than the education sector. 
And yet, maybe it's not. In the tuition arms race between private universities, in which they relentlessly milk students who are rich or willing to take on suffocating debt, it's clear that universities are willing to do anything to buy their way to greater prestige — including stepping all over the very people they're meant to be serving.