This R2-D2 Drone Is Exactly What 'Star Wars' Fans Need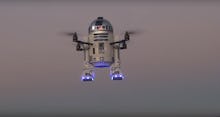 Both drones and Star Wars are huge right now. Combine the two, and you have the ultimate dream machine: the R2-D2 drone. 
YouTube user and Star Wars fanatic Don Melara geeked out and created what he says is the world's first flying R2-D2 drone, "by the fans, for the fans." Melara released a YouTube video in November before Star Wars: The Force Awakens hit theaters. Melara installed the R2-D2 figure with wings, a camera, LED lights and a speaker to transform it into a mean Jedi droid flying machine. 
"It took approximately eight days to complete the build," Melara wrote in a description on the YouTube video. "It was always a childhood dream of mine that someday, someone would build a flying version of our favorite Star Wars droid. Now, thanks to today's technology and a little bit of a passion for aviation it has become a reality."
The dream drone is not currently for sale, but Melara wrote that he'll soon upload a video tutorial on how he transformed an ordinary R2-D2 into a aerodynamic version.