Yet Another High School Girl Is Calling Out the School Dress Code Double Standard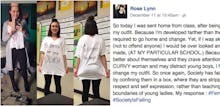 It wouldn't feel right if we didn't close out 2015 with just one more dress code incident. Yet another young woman has been sent home from school for wearing clothing deemed inappropriate — and like other girls before her, she's not taking it lying down.
Rose Lynn, a high schooler from Lawton, Oklahoma, posted to Facebook on Dec. 11 that she was told to go home from school and change because her outfit. The ensemble in question: a loose white top, a long gray cardigan and black leggings. 
The outfit itself didn't seem particularly controversial, and in fact very little skin is showing. 
But as Rose noted on her Facebook, not all women's clothing and bodies are judged equally:
So today I was sent home from class, after being in school for two hours, for my outfit. Because I'm developed farther than the average girl my age, I am required to go home and change. Yet, if I was skin and bones or overweight, (not to offend anyone) I would be overlooked and no comment would be made, (AT MY PARTICULAR SCHOOL.) Because "they must do that to feel better about themselves and they crave attention" But because I look like a CURVY woman and may distract young boys, I have to miss class and change my outfit. So once again, Society has failed to advocate young ladies, by confining them in a box, where they are stripped from their sense of self respect and self expression, rather than teaching young men to respect the boundaries of young ladies. My response : ?#?Feminism? ?#?YoullDistractTheBoys? ?#?SocietyIsFailing?
(Mic attempted to contact Rose's school and will update with any later comment.)
The Oklahoma student is just one more entry of a seemingly endless list of girls who've spoken up this year about what they deem to be unfair policing of their clothes. Dress codes for students are nothing new; but the strictness of such codes, and how they are actually enforced, often finds girls targeted more than boys. More disturbingly, the logic behind disciplining girls' "inappropriate" clothing often invokes the behaviors of boys.
As Rose notes in her Facebook post, her outfit was seen as risqué because it might distract boys. But shouldn't the crackdowns, then, fall on the boys and their behaviors instead? And if seeing someone's body is so distracting, then why do boys' bodies get far less attention when it comes to enforcing dress codes?
That's the argument coming from countless girls around the country. Stephanie Dunn, a 16-year-old from Versailles, Kentucky, was disciplined for wearing a style that "distract [her] male classmates"; 17-year-old Carey Burgess from South Carolina was called out this year for a skirt that was deemed too short. 
Their stories have gone viral because they're speaking up, on Facebook and in clever viral campaigns. In May, Alexi Halket of Etobicoke School of the Arts in Toronto rallied her fellow female classmates for #CropTopDay to push back against policies that deemed their bodies as "sexual or provocative." In October, another group of students in North Charleston, South Carolina, campaigned against a dress code policy they said unfairly sexualized them by wearing a red letter "A" on their shirts, in the spirit of The Scarlet Letter.
The problem is the double standard that punishes girls over boys. Compounding that is the unfair judgments of curvier girls.  
"Certain body types fill out clothes differently," and some clothes are "considered appropriate on certain body types" but not others, Martine Kushner, a student at Washington University in St. Louis, previously told Mic. 
Rose echoed that point in her post. "Because I look like a CURVY woman and may distract young boys, I have to miss class and change my outfit," she wrote. 
And as she posted later on Facebook, what might she possibly change into to meet the moving targets of appropriateness as deemed by school officials? 
h/t Seventeen