Adele Doesn't Care About Her Son's Sexuality, Will Love Him No Matter What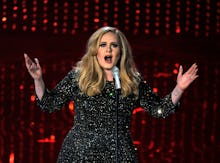 Adele is already the world's favorite music superstar, but she may now be everyone's favorite mom, too. Just a few days after 10 million people tried to buy tickets to one of Adele's worldwide shows, she was also featured on the cover of Time magazine, where she discussed music, motherhood and social media. 
Adele credits her son, Angelo, for keeping her grounded. And in return, she will let him be who he is. During the interview, Adele said that she would support her son and love him for who he is, regardless of his sexuality. She told Time:
"He makes me so proud of myself, and he makes me like myself so much. And I've always liked myself. I've never not liked myself. I don't have hangups like that. But I'm so proud of myself that I made him in my belly. Cooked him in my belly and then he came out of me! This human who's suddenly walking around and doing his own thing. I can't wait to know who his best friends are going to be, who his girlfriend or his boyfriend is going to be or what movies he likes... Whatever my kid wants to do or be I will always support him no matter what."
With these words, Adele is showing that she's not putting any labels on her son before he's ready to adopt them. 
Adele is also staying remarkably consistent with earlier interviews. In a May 2011 interview with Out, she said that what she loves most is inspiring her fans to be who they are. 
She told Out: 
"I get a lot of mail from people who tell me that I make them really happy to be themselves, and really comfortable with who they are, which I love. I would hate it if someone was like, 'I wish I was you' because I'm as insecure about myself as the next person."  
It seems like Adele has an agenda to dominate not only every music chart worldwide, but our hearts, too.