Bowe Bergdahl Enters No Plea at Arraignment on Military Charges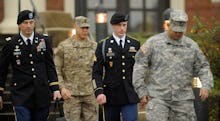 Bowe Bergdahl, the U.S. soldier who is being tried by a military court for willingly leaving his post in Afghanistan in 2009, appeared before a judge Tuesday in Fort Bragg, North Carolina, for his arraignment. According to Reuters, Bergdahl did not enter a plea. As Mic previously reported, Bergdahl was ordered to face a court martial last week and could face life in prison if found guilty of the charges against him — desertion and endangering his fellow troops.
"The accused wishes to defer for reflection," Bergdahl's attorney, Lt. Col. Franklin Rosenblatt said, according to Reuters. 
Members of the Taliban captured Bergdahl shortly after he walked off his Army post, and the insurgent group held him prisoner for five years, which is the longest any American has ever survived as a prisoner of the Taliban. 
The way Bergdahl tells it, he was deeply concerned about the leadership in his brigade, to the point he says he believed his comrades' lives were at risk. According to Bergdahl, he left his post to cause the kind of commotion that would earn him the attention of higher-ups, so that he might express his concern. Bergdahl's case has gained renewed interest as the subject of the second season of the popular investigative journalism podcast Serial,.
The proceedings come after Gen. Robert B. Abrams, head of the Army's command forces at Fort Bragg, chose to go against the preliminary hearing results. In October, Bergdahl's lawyer said no jail time had been recommended. 
According to CNN, Tuesday's proceedings lasted about 11 minutes, and there were about 50 individuals in the courtroom. Bergdahl spoke few words in response to the questions during that time, and mostly responded saying, "Sir, yes sir."
The next court date is scheduled for Jan. 12.