Hillary Clinton's Campaign Wants You to Know She's Like Latina Grandmothers Everywhere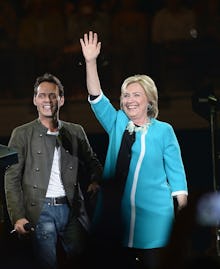 On Tuesday morning, 2016 Democratic presidential candidate Hillary Clinton's campaign posted an article titled "7 Ways Hillary Clinton Is Just Like Your Abuela" to its Facebook page.  
For those who don't know, the word "abuela" is Spanish for "grandmother." The article outlined the way that Clinton, a white grandmother, is just like the abuelas who raise and care for Latino children. 
It mentioned her advocacy for children worldwide, including her advocacy for vaccines. 
The article said she reads to children before bedtime and shows Clinton reading to a white child that is not her grandchild. 
It brought up her belief in "respeto," Spanish for respect. It specifically referenced her clapback to 2016 Republican presidential candidate Donald Trump on his lack of respect for women. 
The article included a GIF of Clinton telling Trump "Basta!" which means "Enough!" in Spanish. 
Finally, Clinton's website invoked the image of Clinton standing with Latino superstar Marc Anthony as a hallmark of her latinidad.
People reacted to the article very quickly after its appearance on Clinton's page. 
People began to refute Clinton's assertions with the hashtag #NotMyAbuela. 
Clinton's efforts to grab the Latino vote do not start here. And Bernie Sanders is trying, too. Given that the Latino vote will be an important factor in the 2016 election, it's no secret that Latinos are changing America's political landscape. 
However, between this and Ricky Martin's assertion that Clinton is a "Latina at heart," some Latinos are just about ready to say: "Basta!"