Donald Trump: Poll Says 50% of Americans Would be Embarrassed If He Became President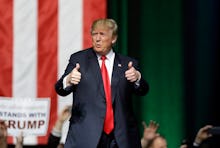 Carlos Osorio/AP
A poll from Quinnipiac University suggests that Republican frontrunner and real estate mogul Donald Trump isn't quite as popular with the rest of the country as he is within the GOP: 50% of U.S. voters would be embarrassed if Trump were president, the poll found.
On the flip side, the poll found that 23% of U.S. voters would be proud if Trump were president. 
Read more:
Those answers are strikingly different from responses to similar questions about Democratic frontrunner Hillary Clinton. Thirty-five percent of voters said they would be embarrassed if Clinton were president; 33% said they would be proud.
The poll also showed that despite his support from the GOP, Trump is still very divisive within his own party: 28% of Republican voters say they "would definitely not support" Trump as the nominee.