Norovirus — Here's What You Need to Know About the Winter Vomiting Bug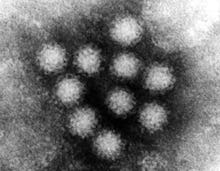 F.P. Williams, U.S. EPA/AP
Health officials have discovered a strain of norovirus called GII.17 Kawasaki that's new to Minnesota, the Minnesota Department of Health announced in a statement Tuesday. The norovirus, which is a common intestinal sickness sometimes referred to as the winter vomiting bug, is typically a seasonal illness that the Minnesota Department of Health describes as "the most common cause of sudden intestinal illness." According to the MDH, the discovery could be an early indicator that the United States will see a prevalence of norovirus cases this winter. 
Before any reported cases of the strain were discovered in America, the GII.17 Kawasaki caused a significant number of illnesses in Asia, local television station WCCO reported Tuesday.
"Every few years, a new strain of norovirus emerges and causes many illnesses," said MDH foodborne disease epidemiologist Amy Saupe in the statement. "We don't know yet if this new strain will lead to an increase in the number of outbreaks reported, but it could. If we're meticulous about washing our hands and handling food properly, we may be able to limit the impact.
"When people say that they have 'stomach flu,' referring to a short illness with diarrhea and/or vomiting, what they generally have is a norovirus infection."
How norovirus is spread: According to the Centers for Disease Control and Prevention, the norovirus is very contagious and is passed from one sick person to another by touching the bodily fluids or linens of an infected person and is later ingested. 
For that reason, it's easy for the virus to spread through food sources. If a sick person prepares food, for instance, that food could likely be contaminated with norovirus. On Dec. 9, Chipotle had through a massive norovirus contamination that infected at least 80 students at Boston University.
For more information on symptoms, transmission, treatment and prevention methods, visit the CDC.