Twitter's #FeministXmasSongs Suggestions Are Just What You'll Need Come Friday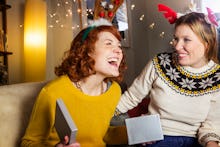 Monday night, California-based illustrator Gemma Correll had a brilliant idea. Naturally, she pitched it to Twitter: "Can we make #FeministXmasSongs a thing?" she tweeted. "I need some entertainment on this rainy evening." 
She got the ball rolling with this gem: 
Ask and you shall receive. Twitter users ran with the idea, and the response is the closest any of us will get to having gender equality wrapped as a present under the tree. Pro tip: If your relatives bust out with something sexist over a slice of ham, cover your ears and drown the noise out with these clever rewrites. 
Best to start off with "Baby, It's Cold Outside," the holiday classic people are starting to realize is actually about date rape:
Some gave up on the idea of snowy streets "dressed in holiday style." (Indeed, it is expected to be a very green Christmas for many of us.) Instead, visions of being in public without getting harassed danced in their heads.
Feminists also considered equal gender roles and how women are portrayed in mainstream media when remastering these holiday lyrics:
Because nothing spells warm and fuzzy Christmas cheer like smashing the patriarchy!