Johnny Depp Named Most Overpaid Hollywood Actor of 2015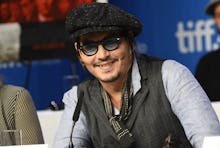 Evan Agostini/AP
Scarf-wearing mega-star Johnny Depp topped Forbes' year-end list of 2015's most overpaid actors. Depp's films "returned just $1.20 for every $1 he was paid on them," according to Forbes. 
Forbes compared the paychecks of 10 of Hollywood's most prominent leading men with the amount of money that their films made at the box office and found that some of them were taking home almost as much dough as their movies were bringing in.
The magazine ranked Denzel Washington as the second most overpaid actor in Hollywood. Washington apparently brought in just $6.50 for every $1 he was paid for his films in 2015. Will Ferrell came in third on the list, pulling in $6.80 for every $1 he made.
Will Smith, Liam Neeson and Channing Tatum also appeared on this year's list. To make the cut on Forbes' 2015 list, actors had to have appeared in a film released after the end of last year's cut-off date and before June of this year — meaning that last year's winner for most overpaid actor, Adam Sandler, wasn't eligible for consideration this time around.
The complete list and more details about how the rankings were compiled are available on Forbes' website.