David Fincher Producing 'Mindhunter' Netflix Series Starring Charlize Theron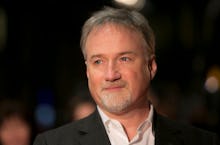 Joel Ryan/AP
Charlize Theron will star in the upcoming Netflix drama series Mindhunter, directed by House of Cards' David Fincher, Deadline reported. The show will be based on the 1996 memoir Mindhunter in which special agent John Douglas shared a behind-the-scenes look at his 25-year experience working for the FBI's Serial Crime Unit. Theron and Fincher will both be executive producers, according to the report; screenwriter Joe Penhall, who wrote the award-winning musical Sunny Afternoon, will write the script.
In his time as a special agent, Douglas tracked down some of the most notorious and psychotic criminals, including Seattle's Green River killer and Atlanta child murderer Wayne Williams. Silence of the Lambs character agent Jack Crawford was based on Douglas. 
The show has been a long time coming, Deadline reported. Six years ago, Theron and Fincher had plans to make a deal with HBO for the show that never went through.
This will be the second show Fincher produces for Netflix. He produced the award-winning political drama House of Cards starring Kevin Spacey that helped launch the streaming service's original programming. Fincher has directed several box office hits and critically acclaimed films including Gone Girl, Fight Club, the Social Network and the The Girl With the Dragon Tattoo.